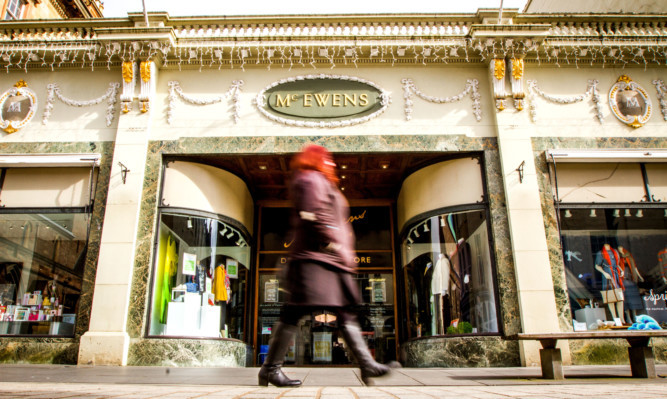 Retailers in Perth will be able to voice their ideas on how to reinvigorate the city centre at a "business summit".
Organised by Perthshire Conservatives, the move follows on from a chorus of concern about the future of retailing in Perth, following the shock announcement of the closure of McEwens department store.
The summit is being held at the Royal George Hotel on Thursday April 28 at 6pm and everyone with an interest in the future of the city's retail health is invited.
The event is being run by Scottish Conservatives economy spokesman Murdo Fraser, parliamentary candidate for the Perthshire North constituency; Liz Smith, parliamentary candidate for the Perthshire South constituency; and the Perth and Kinross Council Conservative Group.
Mr Fraser, who visited local businesses this week to invite them to the summit said: "It is clear that fresh ideas are needed as to how to take Perth city forward.
"We have seen unprecedented criticism of the council's approach in recent days, but what local Conservatives are keen to do is focus on what positive steps can be taken to improve the trading situation in Perth city. We have a number of our own ideas, including looking again at parking, addressing business rates, and finding a resolution to the City Hall and St Paul's Church issues, but we are also keen to hear from others about what needs to be done in order to ensure that Perth city centre is the vibrant shopping destination that we all want to see."
Liz Smith said: "I would extend an invitation to all traders in Perth, and other interested parties, to come along and join us on the 28th for an open discussion. The current response from the SNP-run council reeks of complacency. It is clear that fresh ideas are required to take Perth forward, and that is what we are seeking."
Councillor Alexander Stewart said: "Any time concerns are raised about the future of retailing in Perth, the council's stock response has been to accuse those expressing these concerns of 'talking Perth down'.
"Unfortunately, this pitiful level of response demonstrates the council's inability to get to grips with what is an issue of increasing concern to local businesses. Frankly, Perth deserves better."
In recent days the council has given a robust defence of its record on many of the issues likely to be touched on at the summit but yesterday declined to comment directly on the event organised by the Conservatives.
But on Wednesday at a private meeting, Jim Valentine, depute chief executive for Perth and Kinross Council, met representatives of more than 60 businesses to discuss the city centre.
To register for the summit in advance, email pkconservatives@gmail.com or call 01738 553990.