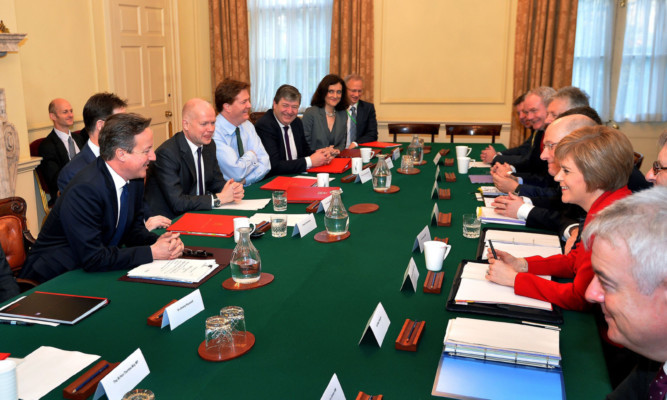 An agreement has been reached between the UK and Scottish Governments to allow 16 and 17-year-olds to vote in Holyrood elections.
First Minister Nicola Sturgeon yesterday met Prime Minister David Cameron for the first time since taking office and expressed confidence the powers to extend the franchise would be devolved in time for the 2016 vote.
Downing Street echoed the optimism on the back of the "very cordial and constructive meeting".
Ms Sturgeon said: "Clearly David Cameron and I have big political differences and different views on the constitutional future of Scotland, but there was a real appetite on the part of both to find ways of working together in the interests of the people of Scotland.
"Following the meeting, I am confident that we now have the basis of a deal on the necessary devolution of powers to extend the franchise to 16 and 17-year-olds in time for the 2016 election, giving us the opportunity to build on the huge success of the engagement we saw in the referendum."
However, the SNP leader warned politicians would "need to move quickly" to make the fast transfer happen and the process would be an early test of MPs' desire to implement the Smith Commission proposals.
The voting age was lowered to 16 for the vote on independence and the same mechanism used to give Holyrood the power to hold the referendum will be implemented again.
A process known as a Section 30 Order will be used to give the Scottish Parliament the power to alter the voting law.
The bilateral talks between the two leaders were held in Downing Street after a meeting of the Joint Ministerial Council, which brings together UK ministers and the leaders of the devolved administrations.
A Downing Street spokesman said: "They discussed the Smith Commission's recommendation on the Scottish Parliament having the power to extend the vote to 16 and 17-year-olds, and the PM told the First Minister that he will do all he can to ensure 16 and 17-year-olds can vote in the next Holyrood elections.
"They also agreed to establish a joint ministerial working group with UK and Scottish Government ministers to look at practical implementation and transitional issues around DWP programmes.
"The PM made clear that he wants to work with the First Minister, forging even stronger ties between our governments and our parliaments and working together on the big issues for the future of Scotland and the United Kingdom."
Ms Sturgeon and Mr Cameron decided to look further at welfare reform in Scotland on the back of the meeting.
Scottish Secretary Alistair Carmichael said Ms Sturgeon's election as First Minister provided an opportunity to "re-set" the relationship between Holyrood and Westminster.