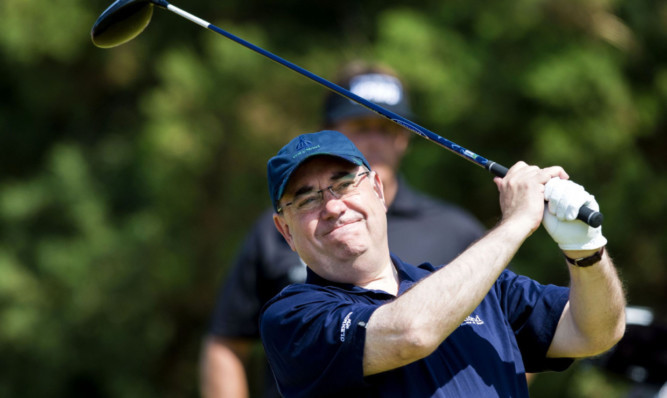 It was 10 days before the historic independence vote and the First Minister and SNP leader was in Inverness.
He remembers vividly an "astonishing" outpouring of support for the Yes campaign on his Highlands travels, but he had no clue that he was on the cusp of a turning point.
"It was a key moment in the campaign," Mr Salmond told The Courier
"Obviously, it became clear as the campaign gathered pace the BBC debate with Alistair Darling, the immense reaction we were getting in the street and in communities, and the enthusiasm when it became obvious that it was going to be a huge poll that was narrowing and narrowing.
"I'd gone up the Moray Firth campaigning and had the most amazing day in Inverness."
He witnessed what he described as astonishing scenes: "people up lamp posts and hanging out of windows" in an extraordinary show of support for Yes.For the final instalment of the Alex Salmond Interviews, see Saturday's CourierMr Salmond decided to steady himself amid the frenzied and heady atmosphere: he opted for a game of golf to clear his head.
"I went to Castle Stuart; I always take a pencil bag with my clubs just in case the opportunity arises, because I love golf.
"I was playing with this guy, an American, who played with hickory-shafted clubs."
As well as loving golf, Mr Salmond also has a fondness for Castle Stuart: he clearly enjoyed his visits to the highly successful Scottish Open as First Minister.
He goes on: "We were playing the second at Castle Stuart, which is a par 5, and I got a phone call. My opponent looked at me slightly disapprovingly as I had a mobile on the course, and rightly so. It's not really something you should do, but under the circumstances"
He answered the call and it was Geoff Aberdein, his chief of staff. His top aide revealed that media mogul Rupert Murdoch had just tweeted that there was a "sensational" poll on the referendum out the next day. Mr Salmond gave instructions for him to find out its contents urgently.
Mr Salmond then turned his attentions to the more pressing business of the third hole. "Anybody familiar with Castle Stuart knows it's a short par 4 you can have a good drive but it just runs off to the left hand side of the green."
As he steadied himself, mentally and physically, his phone rang again.
"I was concentrating on this really difficult shot, but I got another phone call. By this point I was getting a wee bit irritated as that was the second call and I'm having a game of golf, for goodness sake!"
It was Geoff Aberdein again.
"Geoff said: 'It's 51-49 according to the poll'. I said: 'That's great Geoff. It's absolutely ideal'.
"I added: 'Look Geoff, I'm in a game of golf I'll speak to you when I get back to the clubhouse. Put out the appropriate statement, I'm turning my phone off'.
"I shut the phone off and thought 51-49, that's pretty close. That's Yes up to 49, that's the best poll of the campaign absolutely fine, couldn't be in a better place."
Mr Salmond pressed on with his round and completed it without further interruption. But his chief of staff had been busy, and there were nearly 30 messages on the leader's mobile by the time he reached the clubhouse.
"I said to Geoff again: 'What's with all these messages?'"
The reply was that Mr Salmond had misinterpreted his earlier message: Yes was ahead in the poll by 51-49, not behind.
It was a shocking YouGov poll, sending shockwaves through Westminster. It was a turning point in the campaign.
But far from dancing with joy, Mr Salmond simply replied: "Damn!".
"The reason I was disappointed is that we were ahead in the polls which is obviously a good thing but it was the timing.
"I knew as soon as we hit the front that the kitchen sink and most of the living room would be thrown at the Yes campaign.
"They thought they had it in the bag. They thought they were safe. I knew they would mobilise."
And there was just enough time left for No to react. Within days, Messrs Cameron, Miliband and Clegg were heading north with a better deal.
Then their big gun was wheeled out: Gordon Brown stormed on to centre stage and "The Vow" was born, offering sweeping powers to Scotland taking it to the brink of independence, it was thought, if a No vote was returned.
This deadly combination of Mr Brown's powerful intervention and the obvious appeal of The Vow was credited with landing a fatal blow.
Help support quality local journalism … become a digital subscriber to The Courier
For as little as £5.99 a month you can access all of our content, including Premium articles.
Subscribe