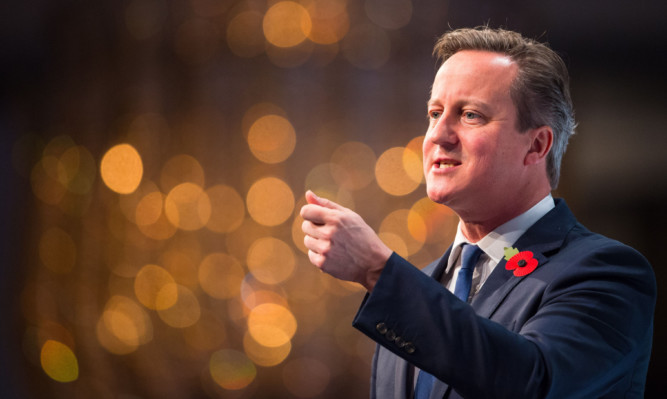 Businesses should not be silenced in the debate over the UK's membership of the European Union, David Cameron said after anti-Brussels protesters targeted the CBI conference.
The Prime Minister dismissed the protest by two student hecklers which interrupted his speech to industry leaders and called on businesses to set out their views.
Mr Cameron said businesses should speak out in favour of the proposed Transatlantic Trade and Investment Partnership (TTIP) deal with the US, claiming the debate had been led by campaign groups, unions and charities opposed to the plan.
The Prime Minister said there were "important questions" to be asked about security arrangements after the students got into the CBI conference after the Vote Leave campaign helped set up a company in their name.
He dismissed the impact of the protest, during which 19-year-olds Phil Sheppard and Peter Lyon held up a banner reading "CBI – voice of Brussels".
Vote Leave has indicated it could target the AGMs of firms whose bosses have spoken out in favour of EU membership.
Mr Cameron said: "If you are worried about two people holding up a banner repeating three words over and over again, if you can't stand that heat I'm not sure that you would get into any kitchen, so I wouldn't worry about that.
"There are some important questions when we are dealing with conferences and security and people pretending to do business and what have you, that's not for me, that's not for others to look at.
"Business knows this is an important issue. Not just big business that we hear a lot from, but also small businesses, entrepreneurs, start-ups.
"In this debate, let's here from everybody".
The Prime Minister said he wanted firms to come up with "concrete examples" of what EU membership meant.
Mr Cameron added: "This is one of the issues that we have when we are trying to explain why trade deals with America make so much difference.
"The people leading the debate on TTIP sometimes are NGOs talking about chlorinated chickens or the NHS, both of which actually are irrelevant.
"We need to hear much more from the small garment manufacturer who says 'I can't get my products into America, our oldest and strongest ally, what the hell's going on? Can't we cut the tariffs and sell more to America?'
"I want to hear from business, large and small, on the EU issue and others as well."