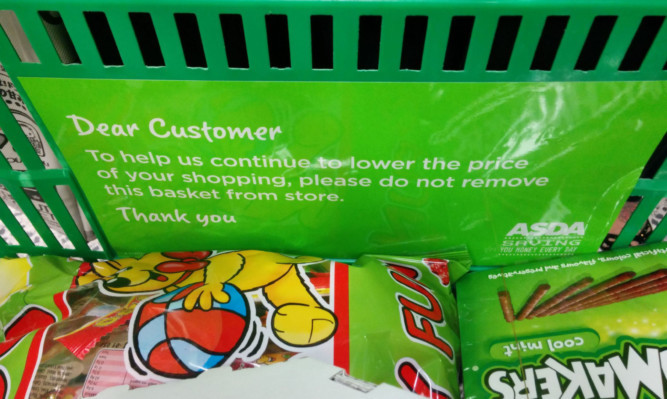 Tight-fisted shoppers are costing supermarkets "thousands" of pounds by refusing to pay for plastic bags.
They have discovered an unconventional and illegal way to avoid the 5p levy, which was introduced earlier this week.
Instead of forking out for single-use or reusable bags, some people are instead choosing to carry their shopping home in the stores' baskets.
Shops have been forced to shell out significant sums of money to replace basket stocks and have also issued stern warnings to customers, and put security staff on high alert.
A Tesco in Dundee has had to order in almost 100 additional baskets, while staff at a branch of Asda in the city claimed customers had been caught on CCTV making off with the baskets.
Similar problems hit a Tesco supermarket in Wales when it started charging people for plastic carrier bags two years ago.
About 500 baskets were stolen from the branch in Denbighshire and enterprising customers tried selling their illicit stash on auction site eBay for £25 each.
Staff at supermarkets in Courier Country have also reported losses and are taking the matter seriously.
Shoppers are being advised that if they take a basket from the premises and fail to return it they could be charged with theft.
The incidents have been criticised by Mid-Scotland and Fife MSP Liz Smith.
She said: "If the customers' behaviour proves to be correct, then it is clearly a concern, particularly for the retail outlets affected.
"Encouraging customers to remove baskets and other containers and bags was certainly not the intention of the new legislation.
"I think most people understand the concerns about restricting litter but it appears that the move is having unintended consequences so perhaps this has to be looked at again."
Zero Waste Scotland, which has played a key role in the scheme, slammed the actions of the basket thieves, saying there was "no excuse" for their actions.
"Avoiding the bag charge is no excuse for criminal and irresponsible behaviour," a spokesman said. "The best way to avoid the charge is by remembering to bring a reuseable bag to shops, like thousands of Scots already are."
Spokesmen for Tesco and Asda both said they had not received any information about basket thefts from their shops in Tayside and Fife.