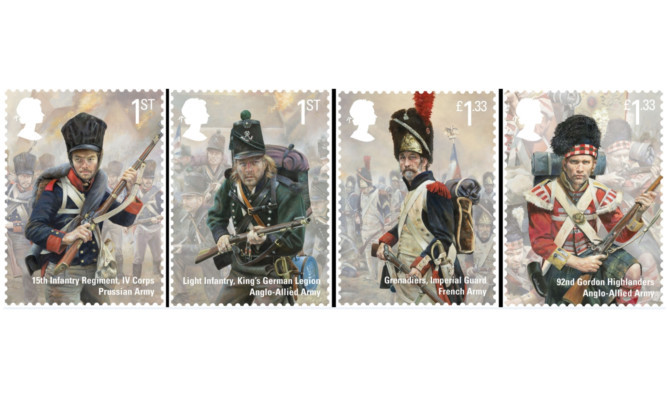 The Gordon Highlanders and the Royal Scots Greys feature on a new set of stamps marking the 200th anniversary of the Battle of Waterloo.
Troops from the former Scottish regiments are among those depicted in the series of 10 Royal Mail stamps issued to commemorate one of the most famous battles in the history of the British Army on June 18, 1815.
The battle – the culmination of many years of war in Europe – was a contest between Napoleon's French army and an Anglo-allied force commanded by the Duke of Wellington, and Prussian forces under Gebhard von Blucher.
Andrew Hammond, director of stamps and collectibles at Royal Mail, said: "Our new stamps mark one of the most famous battles in British history, which also brought an end to the Napoleonic wars.
"We pay tribute to the troops who took part with stamps showing the key events on the day."
The stamps will be on sale from today at www.royalmail.com/waterloo and Post Office branches.
The anniversary will also be marked with a special postmark on all stamped UK mail today and tomorrow.
Evelyn Webb-Carter, chairman of Waterloo 200, the charity established to commemorate the battle of Waterloo, said: "The stamps are an excellent reminder of an important moment in European history.
"Waterloo heralded a significant period of peace in Europe when the nations we are familiar with today were established and flourished.
"It is a moment in history we do well to reflect on and these stamps will help us to do so."