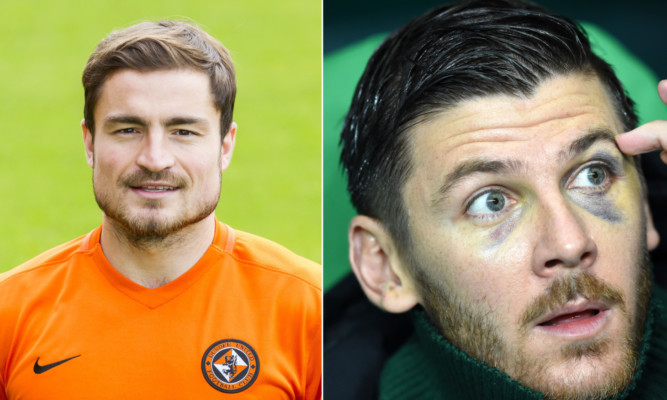 Dundee United midfielder Paul Paton has been fined £500 for assaulting former Celtic goalkeeper Lukasz Zaluska on a night out.
The 28-year-old admitted hitting the stopper on the head to his injury in Glasgow's Ashton Lane on October 20 last year.
Paton changed his plea from not guilty on the first day of evidence at Glasgow Sheriff Court, which saw fellow footballer Mark Wilson give evidence.
The charge was reduced from repeatedly punching to a single punch.
Taking the stand was former Celtic and Dundee United player Wilson, who said Zaluska thought Paton was a Rangers fan and said he hated all Rangers fans and wanted to kill them.
Wilson, 31, told the court he had been out with his wife and other friends in the city's Ashton Lane on October 19 last year and later met up with Paton and his friend, Chris McCluskey.
The group was heading for a taxi at about 11.40pm when Wilson said he encountered his former Celtic team mate, Zaluska.
He told procurator fiscal depute Stephen Ferguson that Paton introduced himself to Zaluska and they shook hands.
Wilson said there was then a confrontation between the two men with Zaluska "kind of being aggressive" and shotuing he "wanted to kill all Rangers fans".
The court then heard Zaluska had made reference to being in the company of "a hun".
Paton then came down the lane and said, "What are you saying?" and "You can't be saying things like that in the street."
Wilson said the shouting continued and Paton told him to stop.
He said Paton reached over his shoulder and hit Zaluska, in what he described was a "kind of push, slap" to his face.
The witness said he did not know if Zaluska caught the kerb when he went down but that he fell into a taxi.
Wilson said he then heard a commotion and saw Zaluska unconscious on the ground and bleeding from the head.
Paton, 28, from Paisley, admitted assaulting Zaluska.
Sheriff Andrew Normand issued a £500 fine.