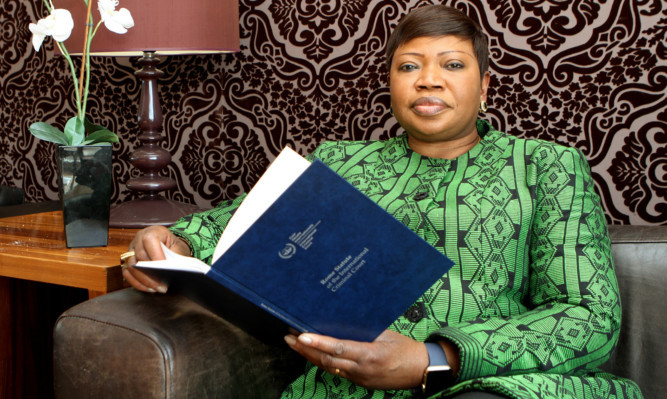 An international effort has been mobilised to bring to justice the killers of three Tayside victims of terror.
Speaking exclusively to The Courier, the International Criminal Court's (ICC) chief prosecutor Fatou Bensouda said the hunt remained on for Islamic State (IS) leaders who orchestrated the slayings.
Mrs Bensouda revealed that investigators from The Hague have offered assistance to the Tunisian authorities probing the killing of 38 people on the beaches of Port El Kantaouri in 2015.
Thirty of those who died were British citizens, among them Bankfoot husband and wife Billy and Lisa Graham.
The ICC is also working to identify, track down and prosecute those behind crimes such as the brutal slaying of aid worker David Haines from Perth in 2014.
The chief prosecutor said: "I have been very much concerned about the crimes that have been committed by IS.
"Those perpetrated by IS against numerous victims including David Haines and Mrs and Mrs Graham are very serious indeed.
"What I have been doing is to request from states whose nationals are among the ranks of IS to provide my office with information that we will gather and look at very closely.
"These crimes could potentially be seen as crimes against humanity and when they take place in states such as Tunisia, we could have jurisdiction.
"We have also offered the assistance of the ICC in Tunisia, because we see our involvement as complementary.
Mrs Bensouda said the process of justice would not be swift but said the ICC and its partners would be dogged in their pursuit of justice.
She gave the example of Dominic Ongwen, one of the most feared commanders of the Lord's Resistance Army (LRA) in Uganda.
It has taken 10 years to bring him to account, but he is finally facing charges before the court in The Hague.
"The challenges are very difficult to overcome.
"We go after those who bear the greatest responsibility for these crimes, notorious perpetrators and mid-level leaders also.
"You need to determine who is the most responsible and despite the challenges we work to bring these people to justice.
"That is what this court was set up to do to look into the activities of groups like IS in certain countries and also political leaders who are committing crimes against their own people and whom we know will never be tried at home because of the positions of influence that they themselves occupy."