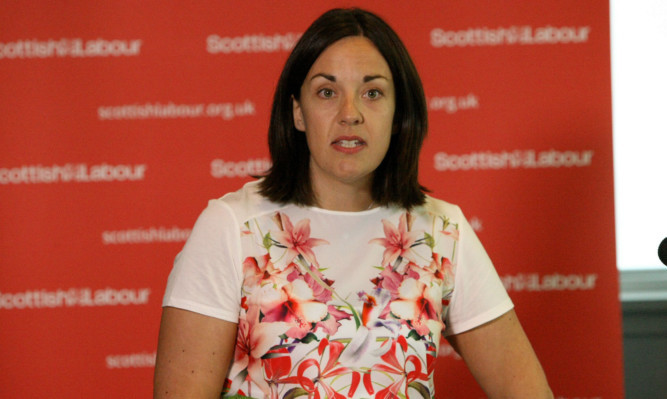 Scottish Labour leadership hopeful Kezia Dugdale has outlined her ambition to raise educational attainment beyond just "satisfactory".
Nine out of 10 schools are rated at least "satisfactory" by inspectors, but the Lothians MSP insists this amounts to settling for "second best".
In a speech in Edinburgh today, Ms Dugdale will outline her plan to make Scottish education "the best in the world".
However, the Conservatives have raised concerns that her plan will involve using Scotland's new tax powers to boost teacher pay by taxing high earners, compelling them to move out of Scotland.
In a statement released in advance of her speech, Ms Dugdale said: "We know that 90% of Scotland's schools are meeting inspection criteria of 'satisfactory' or better.
"We know that 'satisfactory' means that areas of strength only just outweigh areas of weakness.
"This level of performance has not risen since 2008, the year after the current SNP Government took office.
"Are we really saying that the extent of our ambition for Scotland's schools is for them to be simply satisfactory?
"Have we really settled for second best for our young people?
"Satisfactory just isn't good enough for Scotland's schools. Not today, certainly not tomorrow and certainly not for me.
"I said I want to be able to again boast that we have the best education system in the world. Not satisfactory schools, but the best."
Scottish Conservative finance spokesman Murdo Fraser said: "It is reported that Kezia Dugdale supports increases in teacher pay by increasing taxes on high earners.
"This policy will be cheered to the rafters – by George Osborne. What does Labour think will happen if Scotland increases taxes on high earners above the rates they pay in England?
"High earners are among the most mobile in society and many will move south of the border if they are asked to pay more in Scotland than elsewhere in the UK."
A spokesman for Education Secretary Angela Constance said: "This is yet another ill-judged and ill-timed intervention on education from Kezia Dugdale. In a week when young people and their families are celebrating record qualifications results and record numbers are looking forward to heading off to university, Scottish Labour wants to talk down their achievements.
"Scotland has a good education system but clearly there is more to do. We want every child in every community to have every chance of success at school and in life. We are applying a relentless focus to closing the attainment gap and already there are positive signs of progress. Kezia Dugdale's charge that there are no such signs is simply not borne out by recent evidence."
A Scottish Government spokesman said: "Ensuring Scottish education is truly world class is a top priority for this government.
"We have come far and there is a lot to be proud of – students achieved a record 156,000 Higher passes this year – up 5.5% on 2014 and 92% of young people are now in work, training or education. Meanwhile, research from Ucas in June showed a 50% increase in higher education applications from 18-year-olds in the most deprived areas of Scotland since 2006.
"We have built or refurbished 526 schools since 2007 and we are making sure we have the right number of teachers by investing £51 million to protect teacher numbers.
"But we know there's more to do. There is still a gap between the most and the least disadvantaged pupils and we are determined to end this.
"That's why we are making it a legal requirement for Ministers and local authorities to focus on narrowing this gap through the Education Bill. We have launched the Scottish Attainment Challenge, backed by the £100 million Attainment Scotland Fund to improve attainment in schools in our most deprived areas, and we are giving all councils an attainment advisor to help improve attainment locally."
Ken Macintosh, who is competing with Ms Dugdale for the Scottish Labourleadership, has said he has not given up hope of becoming First Minister nextyear despite increasing SNP poll leads.
Appearing on BBC Radio Scotland's Good Morning Scotland programme, Mr Macintosh was asked if he accepted he will not be First Minister next year even if he becomes Labour leader.
He said: "No, I don't accept that. When you stand as a politician you stand to win.
"Of course I'm realistic but apart from anything else the electorate is more volatile than ever. One of the things that depresses me in the last couple of months is the number of people who seem to have given up the ghost.
"It was a terrible election result for us and there are many people in the party whose heads are down and who didn't even want a contest (for leadership) they wanted to lick their wounds and so on.
"I said 'absolutely not'. The people of Scotland still want the Labour Party to be strong, they want a good alternative party.
"I think there are votes there to be won for us. I want to persuade people who have never voted before that we are the party for them, that we're the party of success, ambition and aspiration."
The Eastwood MSP was also asked how he would work with Jeremy Corbyn if they both became party leaders and particularly in Mr Corbyn moves the party against Trident.
Mr Macintosh told the BBC: "If the Labour Party decides that then it's a democratic party and we're absolutely at liberty to make those choices.
"I don't want nuclear weapons, I've never wanted nuclear weapons, at the same time you can't uninvent them and at the moment you have to take a decision in a difficult world, would it be more destabilising to get rid of nuclear weapons when Putin's invading Ukraine and all around the world you see instability, or would it actually help?
"I understand for those who are into nuclear disarmament that it's one of the defining issues why they're in politics, it's not for me. I entered politics because of social change, the economy, housing, education and giving children a chance.
"Within the Labour Party, as in the SNP, there are people with different views on these issues and as a party you reach a democratic decision.
"It's not the leader that decides policy it's the party, and secondly if you want to take shared responsibility for decision making you have to accept collective responsibility.
"We will take all decisions here in Scotland and we will take a view on all decisions here in Scotland. I've never looked over my shoulder to Westminster for permission to decide on any issue whatsoever."