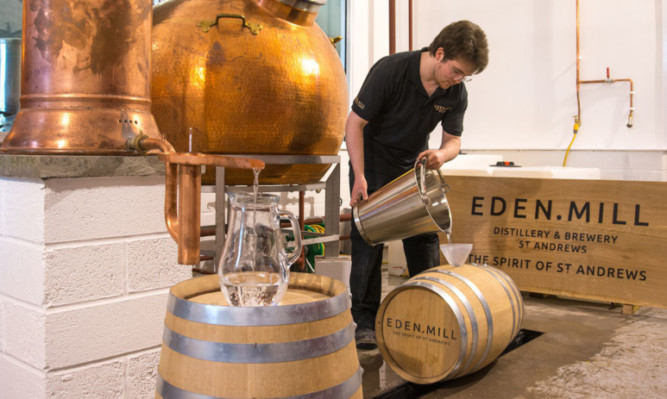 Is gin overtaking whisky as Scotland's national drink? Too bold a claim, maybe. However, when you consider 70% of all UK gin is now produced north of the border, Scottish gin deserves to be recognised as a serious industry.
The 70% figure can mostly be attributed to industry giant Diageo relocating production of Gordon's and Tanqueray to Fife in 1998, although both these brands are considered London gins.
However, there are also a number of smaller, craft gin brands, from Shetland Reel in the Shetland Isles, Caorunn in the Scottish Highlands to The Botanist from Bruichladdich distillery on the Isle of Islay.
Perhaps Scotland's gin resurgence is not too surprising. In recent years the spirit has experienced a huge rise in popularity, evolving from your granny's favourite tipple to a staple in every stylish bar.
In a country with a rich history of distilling, the rise of Scottish gins may be a natural progression.
James Sutherland, owner of 56 North Bar and Restaurant in Edinburgh, says: "The beauty of what we've got with Scottish gin is that there's not one style of Scottish gin.
"We don't produce one flavour, we produce loads.
"The lovely thing about Scottish gins is that I can say, hand on my heart, they are all superb.
"We are very lucky. We've got a rich background of distilling and brewing malt whisky and beer and we have a hell of a lot to be proud of."
Many of Scotland's craft gin distillers use botanicals from their local environment to influence the gin.
For example, the botanicals of Rock Rose Gin from Dunnet Bay, Caithness, are dependent on climate so will subtly change year on year and the Eden Distillery from St Andrews releases seasonal gins based on what botanicals are available from St Andrews Botanical Gardens.
Forget grabbing a tonic and chucking it in your gin with a slice of lemon. Each Scottish craft distiller recommends a garnish that complements the gin's notes, such as kiwi fruit served with Shetland Reel, lemongrass or pink grapefruit with Pickering's or, most famously, cucumber with Hendrick's gin.
Brian Townsend, The Courier's whisky writer, says: "You can distil gin today and flog it tomorrow, whereas with whisky you have a three-year wait and to get really good stuff, you might need a decade.
"What is helping new distillers is a public curiosity and willingness to pay well over the norm to get a gin or other spirit that is different and brings a new taste dimension to a favourite pre-dinner drink.
"However, in my opinion the Scotch big bang will come three or so years from now when the whiskies from all these long-awaited new distilleries come on the market.
"Then we'll know which one proves the future nectar of the gods and who gets the wooden spoon."