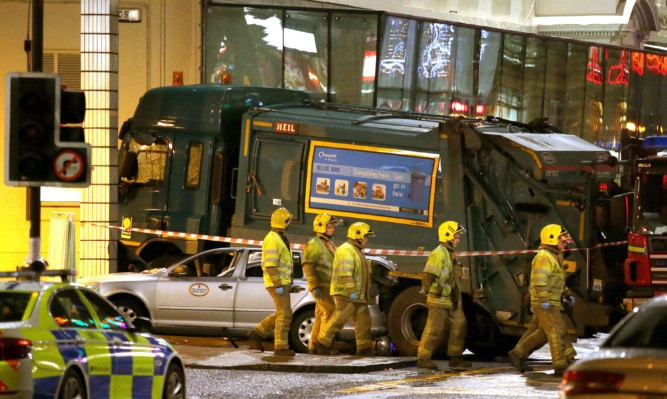 The daughter of one of the Glasgow bin lorry crash victims has said she does not think she will ever return to the scene of the tragedy as the first anniversary of her mother's death approaches.
Lucy Ewing, 22, who was with her mother Gillian when she was struck by the bin lorry in George Square on December 22 last year, has also questioned the sensitivity of Glasgow City Council's marketing of its Christmas festivities.
She told the Daily Record newspaper: "I watched on the TV the 'Glasgow Loves Christmas' advert with its little jingle and I felt it was a little bit distasteful.
"I notice all the Christmas fairs and everything are right on George Square, just as normal.
"I'm not sure where the families were meant to go to lay a tribute on the anniversary, if that's something they wanted to do.
"George Square is where it happened and it's the anniversary – but if you go there, there will be children having fun on the Ferris wheel and the ice skating and all that. It will all be going on yards from where it happened."
She told the newspaper she does not think she can ever return to George Square.
Ms Ewing, 52, from Edinburgh, was among six people who died when bin lorry driver Harry Clarke lost consciousness behind the wheel and the vehicle careered out of control.
Erin McQuade, 18, and her grandparents Jack Sweeney, 68, and Lorraine Sweeney, 69, from Dumbarton; Stephenie Tait, 29, and Jacqueline Morton, 51, both from Glasgow, also lost their lives in the crash.
A memorial service is to be held at Glasgow Cathedral on Tuesday to remember them.