 Two years ago budding young journalist Grace Finlay of Craigrothie Primary School in Fife won £3,000 for her school when her prize-winning front page wowed our judges.
Now, more than 700 pupils from across Courier Country, keen to follow in Grace's footsteps, have already submitted their designs for this year's competition.
Because The Courier is approaching its 200th anniversary, our editor is asking entrants to design a front page for 2216 and to imagine what might be making the headlines then.
The front page can be about their future school, class, family or friends or about something happening in the wider world… but set 200 years from now.
One of the schools to enter is Timmergreens Primary in Arbroath. Teacher Lauren Baird says of her Primary 6b class: "I'm hoping the Junior Journalist competition will give the children an insight into journalism.
"It will also provide them with opportunities to develop skills such as teamwork, problem solving, creativity, researching and taking part in discussions about the future of Scotland."
The pupils themselves are also fired up with enthusiasm.
"I wanted to enter because it sounds like it is going to be a challenge but very enjoyable," says Logan Smith.
Breanna Lorimer adds: "I'm extremely excited because it is great to think about what the future Courier will look like in 200 years' time."
Jamie Booth comments: "I would like to include what I think the technology, transport and clothes will be like in 200 years' time."
Thomas Geddes is even more ambitious: "I would love to have moving images on the front cover of the Courier so the public can see exactly what has happened."
Meanwhile the pupils of P6/7 at Crail Primary School in Fife are looking forward to the chance of combining writing stories with drawing two of their favourite things.
Possible cover ideas, inspired by doodles, dreams, TV, movies and conversations, include the end of the world, disease and extinction.
"I am excited because even if I don't win it will still be fun," says Amie Morton.
Also in Fife, pupils from P6 at Aberhill Primary School in Methil have been coming up with some great ideas for their entries.
Shannon Walker's suggestion is for the first coalition government of aliens and humans or "hulians" while Stefan Holloway's front page is based on the first Disney theme park on Mars.
Kristie McLachlan's design features Leuchars spaceport trips to Pluto.
The P6/7 class at St Joseph's Primary School in Dundee already has a pretty good idea of the highs and lows of being a journalist.
Laurie Young says: "The best thing about being a journalist would be getting to know the news first and witnessing what actually happened with your own eyes,"
Sam Keogh adds: "The worst thing would be the pressure when having to meet deadlines."
Mayah Ishaq adds: "We entered because the prize is amazing and if we win, we think the prize would greatly benefit our learning in ICT and technology, especially photography as we have a strong interest in this."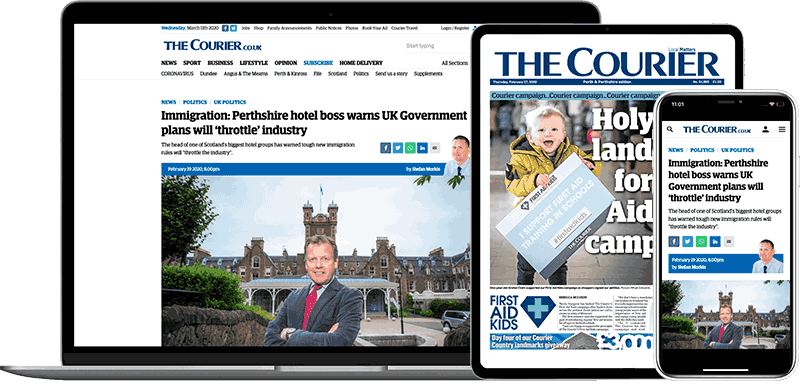 Help support quality local journalism … become a digital subscriber to The Courier
For as little as £5.99 a month you can access all of our content, including Premium articles.
Subscribe