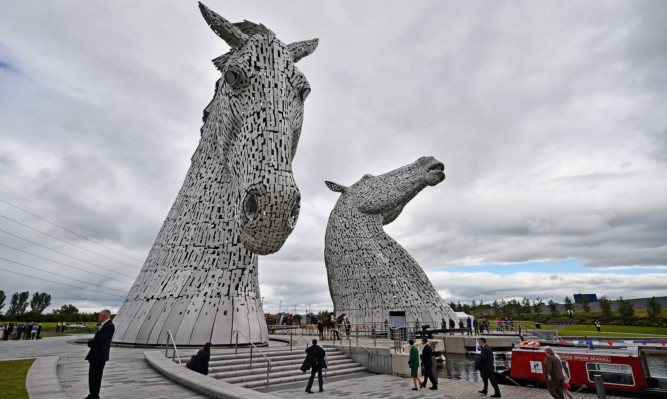 The Princess Royal led a flotilla of boats along a canal as she officially opened The Kelpies visitor attraction.
Anne arrived at the site near Falkirk, home to the giant horse head sculptures, by boat before meeting staff involved in the project.
More than one million people have visited The Kelpies since they opened to the public last April.
It is estimated that the 30m-tall sculptures, the centrepiece of the £43 million Helix parkland project, have boosted the local economy by £1.5 million per year.
Anne unveiled a plaque during the official opening event, which also marked the launch of the new Forth and Clyde Canal extension over which they stand guard.
Kelpies sculptor Andy Scott was present for the occasion, as was Clydesdale horse Duke – one of the models for the structure.
Mr Scott said: "It's been fantastic today. It's kind of the conclusion of almost 10 years, since I first did little sketches for these sculptures. An event like today has just been wonderful.
"I remember writing in one of my first reports that they had the potential to become icons and internationally-known landmarks, and that turns out to kind of be the case, so I'm absolutely delighted with the response."
Covered in almost 1,000 steel panels and standing at the same height as six-and-a-half double-decker buses, the Kelpies weigh more than 600 tonnes.
It is estimated that more than 50 million people see the landmark every year from the canal, the motorway and The Helix itself.
Keith Brown, Secretary for Infrastructure, Investment and Cities, said: "I am delighted to be part of today's event to mark the official opening of The Kelpies and the new Forth and Clyde Canal extension.
"This ambitious project, thanks in part to a contribution of over £9 million from Scottish Canals and the Scottish Government, is an excellent example of partnership working.
"Culture can be an important catalyst for economic development and a powerful force for regeneration. As well as attracting more tourists and further inward investment, the Helix and the Kelpies will support and shape the local area, fostering and reinforcing people's sense of identity and community cohesion for many years to come."
The new canal section passes between the Kelpies and runs under the M9 motorway and the A905 trunk road.
Andrew Thin, chairman of Scottish Canals, said they the body was "honoured" Anne joined the opening celebrations.
"The Helix was alive with activity, from the water to the banks and beyond, and it really showed how the local community has taken the incredible Kelpies and the canal over which they stand into their hearts," he said.
"Today was a fitting culmination of almost a decade of hard work that saw the partners and local community come together to transform an ambitious idea into soaring, steel-clad reality.
"The Kelpies and the new canal are helping put Falkirk and Grangemouth on tourists' 'to-see' lists the world over and serve as a towering tribute to the industrial past of the area and a symbol of its bright future."