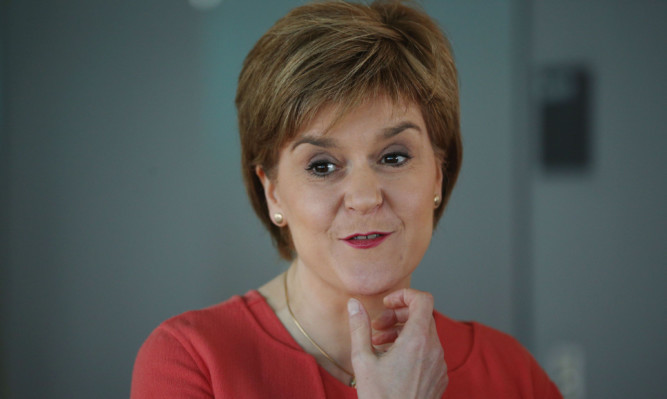 The Scottish Government has signed up to a new UN pledge to tackle poverty and inequality, the First Minister has announced.
Scotland is among the first countries to adopt the UN Sustainable Development Goals which aim to promote sustainable development across the world.
The goals include ending poverty and hunger, ensuring access to education, achieving gender equality and tackling climate change by 2030, and they will be formally confirmed at the 70th regular session of the UN's General Assembly in New York in September.
The plan will encourage governments to engage more with civil society and the private sector to achieve the aims.
The goals were first developed at a UN sustainable development conference in Brazil in 2012 and will apply to all countries, unlike the UN's Millennium Development Goals which were only for developing countries.
Nicola Sturgeon said: "The UN's Sustainable Development Goals offer a vision of the world that I believe people in Scotland share.
"From ending poverty and hunger; securing education and health services; combating inequality and achieving gender equality, the aims set out by the UN form an agenda for tackling some of the world's greatest problems.
"That is why I am delighted to confirm that Scotland has become one of the first nations on Earth to publicly sign up to these goals and provide international leadership on reducing inequality across the globe.
"By signing up, we as a government will be required to demonstrate how we will work to achieve these targets by 2030. Fortunately, many of the goals chime with what we in Scotland are already doing to tackle poverty and inequality, not just here at home but globally too."
The First Minister said the aims are in line with the Scottish Government's National Performance Framework and Action Plan on Human Rights.
She added: "We need to grasp the opportunity that following this path offers to create a fairer Scotland and a better world both now and for generations to come."
Alexander Mejia, a director of the UN's Institute for Training and Research (UNITAR) said: "The United Nations is leading the global dialogue towards a renewed agenda for development.
"UNITAR has been tasked with the ever important responsibility of building the capacity of national, regional and local governments to ensure the new Sustainable Development Goals are embraced and achieved as planned between 2014 and 2030.
"We are doing it with the support of important partners, including the Scottish Government, and with Scottish expertise based at our international training centre in Edinburgh: CIFAL Scotland.
"I sincerely admire First Minister Nicola Sturgeon's strategic vision and commend her commitment to the future of our planet."