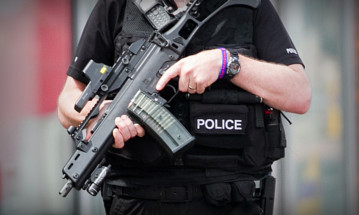 Scotland needs more armed police on the streets in the wake of the Paris terror attacks, according to the organisation that represents rank-and-file officers.
The Scottish Police Federation (SPF) said Scotland was "woefully under-equipped, under-resourced and under-prepared" for an attack on the scale of that in the French capital, in which 130 people died.
General secretary Calum Steele attacked politicians for "lacking maturity" in their response to the controversial issue of armed police.
Speaking after a meeting of SPF officials in Glasgow, he said: "We need only look at the recent horrific events in Paris and particularly the tactical capabilities and the speed at which they were deployed to come to the conclusion that Scotland is woefully under-equipped, under-resourced and under-prepared.
"We want to be clear that this is not the fault of the exceptional officers prepared to undertake these onerous roles, not least as you can't train for scenarios that you neither have the equipment for or the people to deploy to.
"It is time to accept that Scotland simply cannot afford the luxury of keeping police officers out of sight as by the time they could be deployed could in itself be far too late.
"Let me be clear, this SPF is not calling for a fully-armed police service (at this time) but we do believe we need more trained officers routinely carrying their weapons in public."
Last year Police Scotland was forced to review their policy on armed police after politicians and members of the public objected to officers being sent to deal with routine calls while carrying guns.
Mr Steele said: "Without question, the commentary on the apparent controversy over the deployment of armed police officers in Scotland has been shamefully opportunistic.
"This has led to a sapping of morale amongst these highly-skilled officers who face snide criticism if they are seen to undertake any police duties that don't require a firearm. It is time for this to stop."
Mr Steele said budget cuts had resulted in fewer police officers in communities and the closure of local police offices which he argued could hamper the ability to fight terrorism and extremism at an early stage, and he described a lack of sharing of intelligence between forces as "unforgivable".
He repeated a warning to the Scottish Government about further police cuts as the single force struggles to meet the police reform savings target of £1.1 billion demanded by the SNP administration.
"There can be no doubt that the time has come for a significant investment into training and equipment for the police service in this increasingly uncertain world," Mr Steele said.
"We hope all this training is never used and that our weapons are never called upon to be fired, but we at least need to have them in the event that they do."