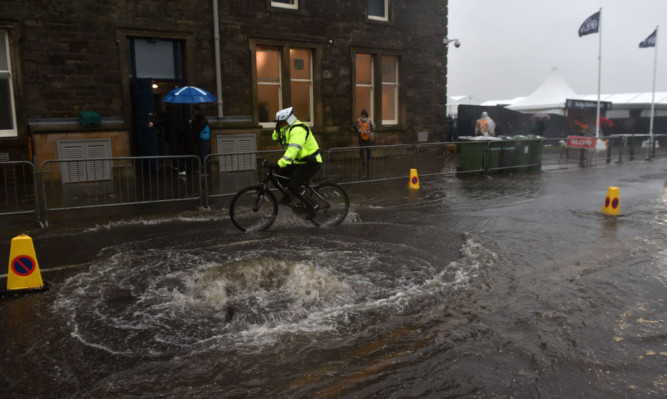 Heavy rain across Courier country has caused difficult driving conditions on the road and forced the suspension of play at the 144th Open Championship at St Andrews.
Perth and Kinross was the worst affected area with firefighters called out to deal with flooding in Barossa Street as overnight rainfall continued into the morning.
Feus Road, Croft Park and New Row were also affected, while conditions were also said to be treacherous in areas of Bankfoot, where the Garry Burn burst its banks, Alyth, where the burn there also burst its banks, Comrie, Blairgowrie and Kirkmichael.
Indeed, one eyewitness in Alyth said: "It's biblical – I've never seen it like this before."
@BBCScotlandNews Alyth is under water this morning #Alyth #Flood #gladILiveInAFlat pic.twitter.com/vfLzfuObjb

— Jo Worrall (@teamworrall) July 17, 2015
Helen Brawn runs the Bride of Cally post office, which sits on the banks of the river Ardle.
She said the water was "thundering" down its path and heavy rain was affecting the roads.
"It was very dramatic," she said. "We had a mini aqueduct on the bridge, which had a foot and a half of water going over it.
"The water was coming down the road the drain was blocked by silt off the hills.
"It's the worst I've seen it in the 12 years I've been here."
In Perth itself, Feus Road was closed in both directions, although the council said there were no properties affected.
The B827 Langside that runs from A822 just North of Braco over to Comrie was also closed following a serious washout South of Glenlichorn to Beannie.
Road scene on A822 nr. Dunkeld. @trafficscotland @PerthandKinross @polscotrpu pic.twitter.com/GKrz9jtETG

— Neil Cuthbert (@cuthbertneil) July 17, 2015
A local councillor described the flooding in Bankfoot as " a pretty devastating scene".
John Kellas, who lives in the village, said the community was rallying round to try and protect buildings in the area.
He said: "It's horrendous the bottom end of the village is cut off.
"It is flowing like a river down Nicol Drive. It all happened very quickly. There was no major problem until the Garry burn burst its banks.
"Some local businesses are building dams out of sand and breeze blocks to try and protect their properties.
"The community response has been very good there are people helping to protect as many properties as possible. That has to be applauded."
@WindyWilson88 bit flooded in Bankfoot pic.twitter.com/RfIDd8z41q

— Michael Fergusson (@mickeyfs) July 17, 2015
Mr Kellas added: "The bowling green is under two foot of water, which will affect a major tournament here at the weekend."
Road at A822. @trafficscotland @PerthandKinross @polscotrpu pic.twitter.com/V0VJhpXUOo

— Neil Cuthbert (@cuthbertneil) July 17, 2015
The A90 between Dundee and Aberdeen was moving well ahead of rush hour, but Police Scotland warned motorists to be wary of surface water and low visibility.Video: Alyth burn bursts banksIn Dundee, flooding forced the closure of Dens Rd due to subsidence, with National Express bus services 1a and 19 operating with diversions.
A spokesperson for Scottish Water said they had discovered a blocked drain and were working hard to rectify the problem.
Fife was also hit by the weather, with organisers of The Open deciding to suspend day two's play before the first group had even managed to finish the first hole.
Persistent rain throughout the early hours got worse just as Jaco van Zyl, Mark Calcavecchia and Marcel Siem teed off at 6.32am.
The downpour saw a torrent of water gushing down Golf Place, the road leading to the R&A clubhouse, and with the greens quickly flooding organisers were left with no option but to suspend proceedings at 6.46am.
Weather forecasters predicted outbreaks of heavy rain in the morning with windsgusting up to 30mph with speeds increasing to 35-40mph in the afternoon butdrier conditions.
Jordan Spieth, at five-under-par two off compatriot Dustin Johnson's lead chasing the third leg of an unprecedented calendar year grand slam and teeing off at 2.34pm, said he was expecting tough conditions.
"It's definitely going to be a brutal day. We just don't know when the rain is going to start, when it's going to stop, if it's going to come back," he said.
"I think it will be a true Scottish day that we all should enjoy the challenge ahead."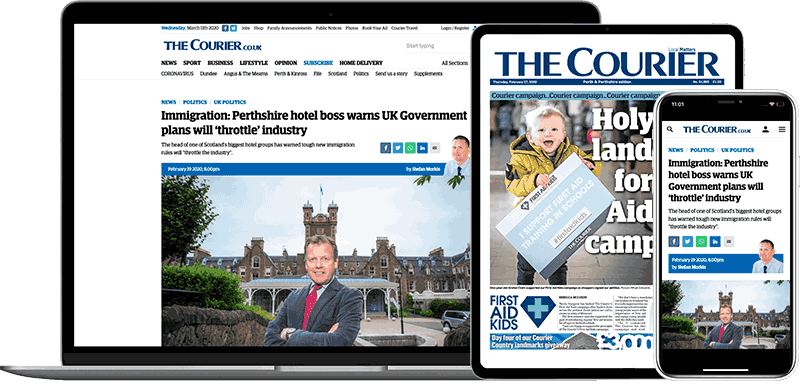 Help support quality local journalism … become a digital subscriber to The Courier
For as little as £5.99 a month you can access all of our content, including Premium articles.
Subscribe