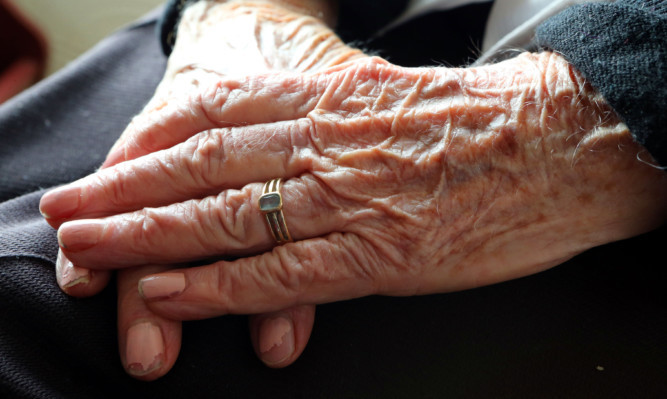 More than 10,000 Scots who could benefit from palliative care towards the end of their life die without receiving it, a new report has suggested.
Professor David Clark, of Glasgow University, said an estimated 40,000 people in Scotland could benefit from the specialist form of care.
However, a new report, produced for Holyrood's Health Committee, said about a quarter of the group might not receive it.
Projections based on data from England suggest an estimated 10,600 people in Scotland die each year without receiving any palliative care.
It said that "reliable studies" looking at the need for palliative care estimated that "in rich countries around 82% of all people who die would benefit from palliative care" – with this equating to about 40,000 people a year in Scotland
The report stated: "In England, slightly less robust estimates have been produced which indicate the numbers that might currently be receiving palliative care.
"These have been used to form estimates of those who might benefit from but are currently not receiving palliative care – giving an estimate for Scotland of 10,600 people who die each year without receiving palliative care."
Palliative care aims to prevent and alleviate suffering caused by life-limiting illnesses, particularly towards the end of life. The UK was the first county in the world to recognise it as being a specialist field in medicine in 1987.
The report said there was a lack of information regarding the quality and availability of such care in Scotland.
At the moment, it is not possible to say how palliative care in Scotland compares to other European countries, although the report said: "We must assume, in the absence of evidence to the contrary, that the provision of palliative care in Scotland is comparable with that, as measured, for the United Kingdom as a whole. This would make it world-class."
Duncan McNeil, convener of the Health and Sport Committee, said MSPs had heard "anecdotally there are serious deficits in the quality of palliative care being provided for in Scotland" when they were considering the issue of assisted suicide.
He added: "From the evidence we have received already during the course of our inquiry, there have been individual cases which tell a story of the difficulties experienced by people at the end of their life in accessing and receiving the palliative care they need.
"The research identifies a major issue and that is a serious lack of information on the provision of palliative care in Scotland."
Deputy convener Bob Doris said: "The provision of end-of-life care is not one that is going to go away as our population ages and more and more people need care at the end of life.
"The Scottish Government is already looking into this area as they prepare to publish their framework for action on palliative and end of life care. We hope that this research and our inquiry findings will provide some helpful insight to this."