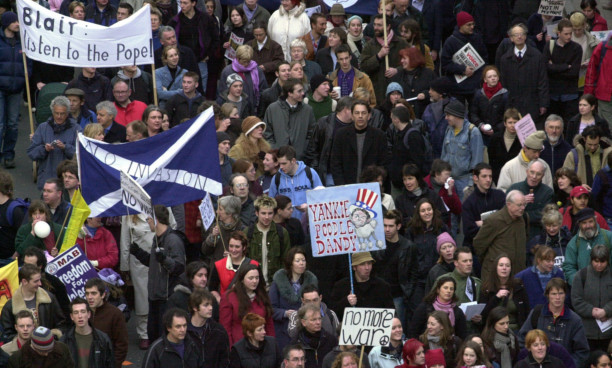 First Minister Alex Salmond has been accused of "politicking" and "unpardonable" behaviour after saying a Labour MSP caused the deaths of Iraqis by voting to show his support for the war.
During a Scottish Parliament debate on the 2003 invasion on Tuesday, Mr Salmond said "people died" because of Lewis Macdonald's support for the then UK Goverment's decision 10 years ago even though the decision on any military action was solely a matter for Westminster.
The First Minister said: "We should reflect that the best way to fulfil our obligations as good international citizens is (to) participate fully on the world stage."
Referring to North-East representative Mr Macdonald, who was trying to intervene, Mr Salmond added: "Well, the member says it's a joke. Let him speak and see how funny it is that people died because of his votes in this parliament."
A Scottish Labour spokesman said the First Minister's words were "the most tasteless politicking on a very serious subject."
He added: "Whatever your views on the war, those who voted both for it and against it did so out of honesty and conviction. His words were unpardonable."
Mr Salmond earlier challenged MSPs, in particular Scottish Labour leader Johann Lamont, to publicly change their minds and "admit their mistake" over the war.
A decade ago the Scottish Labour Party, led by Jack McConnell, narrowly prevented an embarrassing vote against the UK Government's policy on Iraq.
Six Labour MSPs including then Dundee East representative John McAllion rebelled against the party line and backed an amendment insisting "no case for military action against Iraq has been proven".
Mr Salmond said that an independent Scottish Parliament would not have backed such a war.
"The illegality of the war in Iraq is a disgrace without parallel in modern times," he said. "The shame of it will echo down the ages for Mr Blair and all of those who were complicit in sending young men and women to risk their lives on the basis of a gigantic fraud."
The "narrow" decision 10 years ago at Holyrood was made because of misplaced party loyalty, he added.
Ms Lamont insisted she voted with her conscience at the time.
She said: "Can I say for the record that when I voted as I did, I voted on the grounds of listening to the evidence in front of me and on my conscience.
"It does you or no one else any service to suggest that when people disagree it's because they're obliged to do so."
At the time she defended the UK Government's efforts to secure international backing for the invasion.
Tory John Lamont insisted the war was necessary but admitted the "situation in Iraq is far from ideal" 10 years on, with levels of violence still too high, political unrest common and persecution of religious and political minorities continuing.
Scottish Liberal Democrat leader Willie Rennie said he was proud his party opposed the invasion but added this should not prevent Britain taking military action against other countries.