 Pensions could be cut and "a much lower budget must be assumed" on defence in an independent Scotland, according to a leaked Scottish Government report.
According to the document, drafted for the cabinet by Finance Secretary John Swinney, "volatility" surrounds oil production and prices.
It also admits Scotland's population share of debt interest payments would rise by 40% "in cash terms", public sector jobs could be cut to trim budgets and a £600 million bill would arise from setting up a Scottish tax service.
Labour's Shadow Defence Secretary Jim Murphy MP described the memo as "explosive on defence" while the party's Scottish leader Johann Lamont called the papers "particularly worrying" for pensioners.
A Scottish Government official said the year-old report had been "overtaken by events" and pointed out it has previously been announced that defence spending would be £1 billion less than Scottish taxpayers currently contribute.
However, he claimed the annual security budget would be £500m more than recent UK levels of defence spending in Scotland.
The report says: "Historically defence spending in Scotland has been lower than Scotland's population share of the UK defence budget. I have made clear to the Defence Workstream that a much lower budget must be assumed."
The report accepts forecasts that Scotland would have a larger fiscal deficit than the UK by 2016-17 and explores the possibility of welfare reform to help balance budgets.
In it, Mr Swinney says he "expects" a working group made up of economic advisors "will consider the affordability of state pensions as its work on fiscal sustainability proceeds."
Scottish Liberal Democrat leader Willie Rennie said the document "blows a crater in the SNP's independence spending promises".
Better Together leader Alistair Darling said: "Be it on pensions, public sector jobs or benefits, the nationalists have been caught saying one thing, but planning another."
Ms Lamont added: "In short these papers show that billions could be cut from public services, billions cut from pensions, but billions spent on monuments to Swinney and Salmond's vanity in a separate Scotland."
Mr Murphy said the document proved armed forces funding would be cut in an independent Scotland.
"The SNP have been parading around Scotland this week complaining about Tory defence cuts when at the same time they have secret plans to go even further than the Tories."
Scottish Conservative leader Ruth Davidson called the difference between what the SNP say in public and what they know in private "astonishing" and accused the Scottish Government of a "con".
A Scottish Government spokesman said the paper showed the depth of detailed financial planning work being undertaken for independence.
He added: "Firstly, we have now had the detailed expert report of the Fiscal Commission Working Group outlining a macroeconomic framework for an independent Scotland.
"Secondly, the projections the paper uses for oil revenues do not take account of the rising price of oil on the global market or the surge in investment which is now creating a new North Sea oil and gas boom."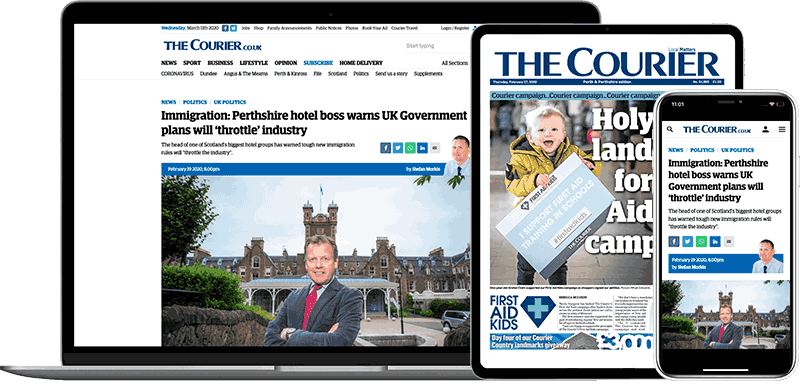 Help support quality local journalism … become a digital subscriber to The Courier
For as little as £5.99 a month you can access all of our content, including Premium articles.
Subscribe