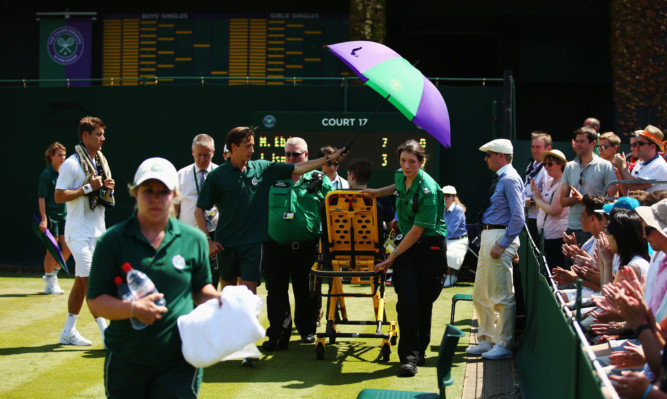 Wimbledon recorded its hottest ever day, as tennis players struggled in sweltering conditions and a ball boy collapsed on court.
The Met Office said a temperature of 35.7C was recorded at Kew Gardens – its nearest station to the All England Club – at 2.30pm. The previous record was 34.6C in the scorching summer of 1976.
A ball boy collapsed and was taken to hospital as temperatures soared during amatch between Australian Matthew Ebden and American John Isner.
Afterwards, an All England Club spokesman said: "He's sitting up and is conversant but has been sent to hospital for a precautionary check-up."
Organisers at Wimbledon tweeted: "The Ball Boy from Court 17 has been treated and is feeling much better. We wish him a speedy recovery."
The extreme heat meant female players could take advantage of a rule – described by some as sexist – which allows women to take a 10-minute break during matches if the "heat stress index" reaches 30.1C (86.18F).
Andy Murray's mother Judy called for the "heat rule" to be allowed in the men's game as she handed out coffees to people in the Wimbledon queue before the gates opened.
She said: "For the men working across the best of five sets it's incredibly physically and mentally draining, so I think the men should take advantage of it as well."
Officials were again forced to limit the number of fans coming into the All England Club, while the Centre Court roof was closed before play started to protect the surface from the heat.