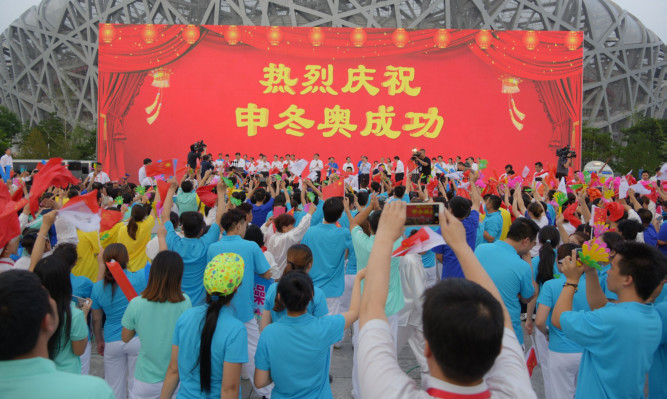 Beijing will become the first city to host both the summer and winter Olympics after winning the vote for the 2022 Games.
The Chinese capital will host the winter Olympics 14 years after the 2008 summer Games was held there – and despite needing to rely heavily on artificial snow.
Beijing beat Almaty, the Kazakhstan city, in the vote at the International Olympic Committee meeting in Kuala Lumpur.
The vote was much closer than expected – Beijing winning by 44 votes to 40 -but the victory will once more focus attention on China's human rights record.
Lizzy Yarnold, who won gold for Britain in the skeleton in 2014, told BBC Radio Five: "I do hope the IOC take the human rights issues into consideration and make sure there is an actual change for the better."
Beijing will use some venues from the 2008 summer Olympics and will have mountain events up to 90 miles away from the city. Yarnold also warned that artificial snow creates different demands to real snow.
She added: "I know Beijing is a relatively warn place, and with the snow sports it [artificial snow] does make a huge difference – it impacts the speed and they need to take that into consideration when designing the venues.
"The venues will need to be technically excellent, need to be Olympic standard and I hope the IOC are going to make sure everything is ready."
The secret ballot involved 86 IOC members and followed final presentations by the two rivals.
The campaign group Human Rights Watch has also called on the IOC to ensure China improves its human rights record.