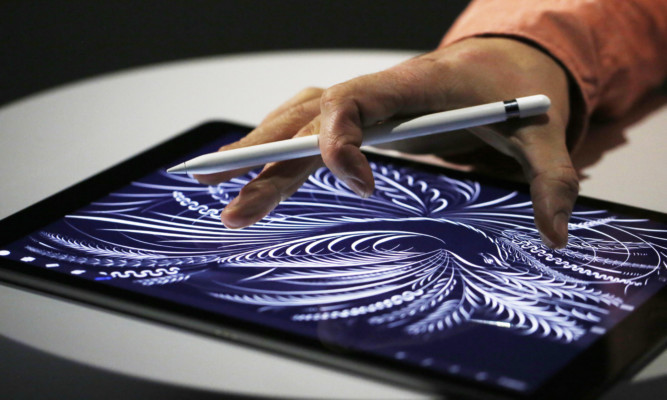 Apple has officially announced the launch of a new, bigger tablet computer called the iPad Pro.
The technology giant also used a live event to unveil the iPhone 6s and 6s Plus, which come both come with a pressure sensitive screen that uses technology called 3D Touch where applying more or less pressure to a tap opens new shortcuts.
They will, as rumoured, come in a rose gold colour finish too.
The new iPhones will go on sale on September 25, with pre-orders for the devices beginning on September 12, starting at £539 for 6s and £619 for the 6s Plus
The firm's chief Tim Cook called the iPad Pro the "biggest news in iPad since the iPad" as he unveiled the device on stage at the live event in San Francisco. The iPad Pro will have a 12.9 inch screen with more than five million pixels.
Mr Cook called it "our vision of the future of personal computing".
The iPad Pro will come with a stylus called the Apple Pencil. This is despite late Apple co-founder Steve Jobs famously once saying: "If you see a stylus, they blew it."
https://youtube.com/watch?v=4YY3MSaUqMg%3Frel%3D0
A keyboard for the Pro was shown off too, clearly marking the Pro as a major new rival for Microsoft's popular Surface line of tablets.
A UK price is yet to be confirmed for the iPad Pro but it will go on sale in November.
A much rumoured revamp of the Apple TV was also confirmed, with Apple's voice assistant technology Siri now integrated to use in searches.
The Apple TV has also had its interface and software overhauled in order to compete with the likes of Amazon's Fire TV box and service.
There was also a fashion conscious aspect to the live show in San Francisco, as Apple introduced a new line of Apple Watch straps, as well as a partnership with brand Hermes to create a collection of the smartwatches.Reviewers respondTechnology experts have been offering their first thoughts on Apple's new products.
Kent German, from consumer technology site CNET, said: "The new iPhone 6s and 6s Plus will no doubt win a sizeable number of new customers, but an unchanged design and few feature changes from last year's model follow the company's pattern for 'S' models.
"What's more, Apple is facing a smartphone market where sales are slowing as consumers feel the need to upgrade less often. Getting them excited enough to pay for a new phone, especially when last year's model is good enough, is increasingly challenging.
"If iPhone sales slow, the company will need to lean on revenue from other products. The new iPad Pro and Apple TV may be an answer."
https://youtube.com/watch?v=WlYC8gDvutc%3Frel%3D0
Smartphone expert at uSwitch.com Ernest Doku added: "Stronger glass and a new aluminium body should put 'bendgate' to bed once and for all, while the widely-anticipated 3D Touch delivers a new way to interact with our phones.
"Rarely does Apple innovate for innovation's sake. 3D Touch takes established functionality and embeds it in a phone, meaning this isn't a gimmick, it's a natural evolution – much like Fingerprint ID."TV or not TV?TV is becoming an increasingly competitive battleground for technology companies, and Apple has just made its biggest move in the field.
A major overhaul of their Apple TV box – the first update in three years – has seen the device given a host of new features and power that will enable it to compete with rivals such as Amazon's Fire TV.
Apple TV now has the App Store built in, meaning that users can play games and download other apps and use them on their TV. To go with this is a new smart remote control, which has a touch area that registers gestures such as swipes and pinches, and can be used to navigate the various screens.
Siri is built in too, and can offer detailed and intelligent results to all manner of search requests – based on movie titles, genres and even actors. A microphone has been added to the remote to support this.
One of the smartest features of the Siri integration enables users to ask "what did they say?", and Siri will rewind a TV show 15 seconds to replay it, but also place temporary subtitles on screen so you do not miss it again.
Siri can also tell you which streaming services you can find a show on.
Though not all of the features demonstrated are new – many already exist elsewhere – a stronger Apple in the TV market will only increase competition.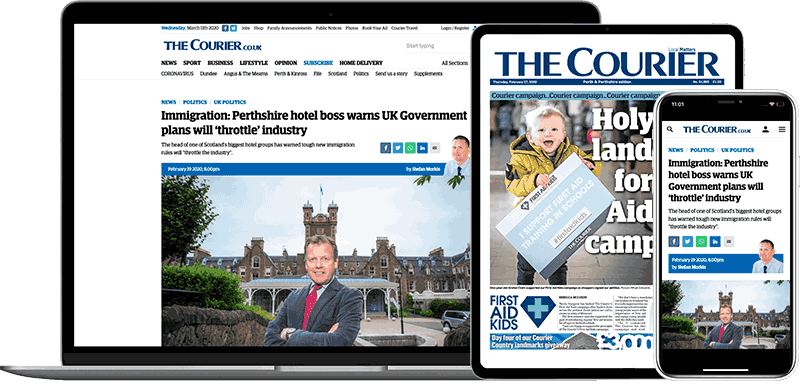 Help support quality local journalism … become a digital subscriber to The Courier
For as little as £5.99 a month you can access all of our content, including Premium articles.
Subscribe