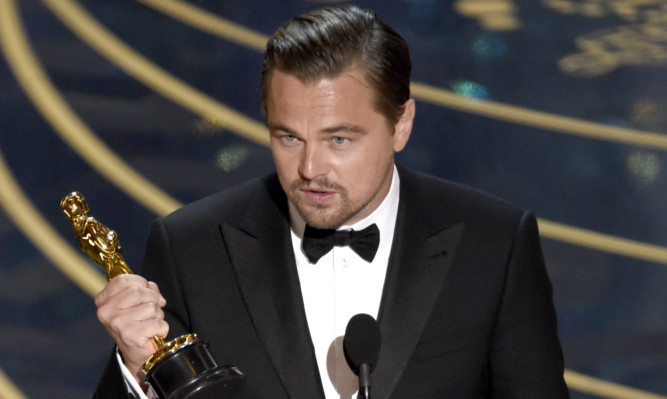 Newspaper drama Spotlight has upset all the glitzy Hollywood predictions with a best picture Oscar.
The film was the surprise winner at the 88th Academy Awards, where remarks on lack of diversity dominated the proceedings.
Tom McCarthy's film about the Boston Globe's investigative reporting on sexual abuse by Roman Catholic priests won over the favoured frontier epic The Revenant.
Spotlight, led by a strong ensemble cast, had lagged in the lead-up to the Oscars, losing ground to the flashier film-making of Alejandro Inarritu's film starring Leonardo DiCaprio, who won the best actor statuette.
But Spotlight took the night's top honour, despite winning only one other Oscar for McCarthy and Josh Singer's screenplay.
Such a sparsely-awarded best picture winner has not appeared since 1952's The Greatest Show On Earth.
"We would not be here today without the heroic efforts of our reporters," said producer Blye Pagon Faust. "Not only do they effect global change, but they absolutely show us the necessity for investigative journalism."
After four previous misses, DiCaprio won his first Oscar for his grunting, gruff performance in The Revenant. The best actress award went to Brie Larson for mother-son captive drama Room.
"Climate change is real," said DiCaprio. "It is happening right now. It is the most urgent threat facing our entire species. Let us not take our planet for granted. I do not take tonight for granted."
Inarritu took best director for a second straight year, a feat matched by only two other film-makers – John Ford and Joseph Mankiewicz. His brutal frontier epic, which came in with a leading 12 nods and was the favourite for best picture, also won best cinematography for Emmanuel Lubezki.
Renowned for his use of natural light in lengthy, balletic shots, Lubezki became the first cinematographer to win three times in a row, following wins for Gravity and Birdman, and only the seventh to three-peat in Oscar history.
Mexican director Inarritu was one of the few winners to remark passionately on diversity in his speech.
"What a great opportunity for our generation to really liberate ourselves from all prejudice and this tribal thinking and to make sure for once and forever that the colour of our skin becomes as irrelevant as the length of our hair," he said.
But the night belonged to host Chris Rock, whose much-anticipated opening monologue left few disappointed. He confronted head-on the uproar over the lack of diversity in this year's nominees, and returned to the topic throughout the show, saying: "We're black," after a commercial break.
"Is Hollywood racist? You're damn right it's racist," said Rock, who also sought to put the issue in perspective. "Hollywood is sorority racist. It's like, 'We like you Rhonda, but you're not a Kappa'."
Rock had stayed quiet before the ceremony as the controversy raged over the second straight year of all-white acting nominees, leaving Hollywood and viewers eagerly awaiting his one-liners.
He confessed that he deliberated over joining the Oscars boycott and bowing out as host, but concluded: "The last thing I need is to lose another job to Kevin Hart."
With activist the Rev Al Sharpton leading a protest outside the Dolby Theatre and some viewers tuning out the broadcast, Hollywood's opportunity imbalance often overshadowed the actual awards – though Mad Max: Fury Road did its best to command the spotlight.
George Miller's post-apocalyptic chase film exploded with six awards in technical categories for editing, make-up, production design, sound editing, sound mixing and costume design. Roundly acclaimed for its old-school craft, Miller's Mad Max was assured of becoming the evening's most awarded film.
"Us Mad Maxes are doing OK tonight," said editor Margaret Sixel, who is also Miller's wife. The flurry of wins brought a parade of Australian craftsmen on stage, including sound editor Mark Mangini, who celebrated with a loud expletive.
There were few surprises, but the supporting actor win for Mark Rylance drew gasps. Sylvester Stallone, nominated a second time 39 years later for the role of Rocky Balboa, had been expected to win his first acting Oscar for the Rocky sequel Creed. He instead lost to the famed stage actor who co-starred in Steven Spielberg's Bridge Of Spies.
Adam McKay and Charles Randolph took best adapted screenplay for their self-described "trauma-dy" about the mortgage meltdown of 2008, The Big Short. McKay thanked Paramount Pictures for taking a risk on a movie about "financial esoterica".
Best known for broader comedies like Anchorman and Step Brothers, McKay gave an election-year warning to power of "big money" and "weirdo billionaires" in the presidential campaign.
Talk of the presidential election was otherwise largely absent the ceremony, though US vice president Joe Biden (whose presence added even greater security to the Dolby Theatre) was met by a standing ovation before talking about sexual assault on college campuses before introducing best-song nominee Lady Gaga.
Best supporting actress went Alicia Vikander for the transgender pioneer tale The Danish Girl. Vikander, the 27-year-old Sweden-born actress, was ubiquitous in 2015, also winning awards for her performance in the sci-fi Ex Machina.
Best animated feature film went to Inside Out, Pixar's eighth win in the category since it was created in 2001. Asif Kapadia's Amy Winehouse portrait Amy took best documentary. Hungary scored its second best foreign language Oscar for Laszlo Nemes' Son Of Saul, a harrowing drama set within a concentration camp.
"Even in the darkest hours of mankind, there might be a voice within us that allows us to remain human," said Nemes. "That's the hope of this film."
The nominees restored the Twitter hashtag OscarsSoWhite to prominence and led Spike Lee, an honorary Oscar winner this year, and Jada Pinkett Smith to announce that they would not attend the show.
Several top African American film-makers, Ryan Coogler (Creed) and Ava DuVernay (Selma) spent the evening not at the Oscars but in Flint, Michigan, raising money for the water-contaminated city.How the Brits didIt was not a great year for Hollywood's Brit pack at the Oscars.
Mark Rylance's unexpected best supporting actor win was the highlight but Eddie Redmayne failed to make it two in a row as best actor, being pipped by Leonardo DiCaprio.
Veteran Charlotte Rampling also missed out in the best actress category, which went to Brie Larson.
American Sylvester Stallone had been considered a cert to take home the best supporting actor gong for Creed but Rylance's unanticipated win for his role as Rudolf Abel in Bridge of Spies helped bring the total of UK trophies at the award to five.
Sam Smith and co-writer Jimmy Napes picked up best original song for Spectre theme Writing's On The Wall, beating American-composed tracks Earned It, Til It Happens To You, Simple Song £3 and Manta Ray.
Amy, the Bafta and Grammy winning documentary about the life and death of singer Amy Winehouse, won best documentary for director Asif Kapadia and producer James Gay-Rees.
Jenny Beaven, who Stephen Fry infamously joked looked like a "bag lady" at the Baftas, flew the flag for the UK with her choice of a Marks and Spencer leather jacket which she had embellished with Swarovski crystals to collect her award for best costume design for Mad Max: Fury Road.
The British team of Andrew Whitehurst, Paul Norris, Mark Ardington and Sara Bennett took home the prize for visual effects for Ex Machina.
In the supporting actress category, the Swedish star of The Danish Girl Alicia Vikander won against the UK's best chance, Kate Winslet for Steve Jobs.