The weather forecaster who famously failed to forecast one of Britain's worst storms in living memory joked that people would say it served him right that the wind blew down a tree in his garden.
Michael Fish – who told television viewers there was not a hurricane on the way hours before a huge storm ravaged parts of England in 1987 – said even his wife blamed him for the damage.
But he also hailed the accuracy of new computer models which he said had allowed the Met Office to predict the latest weather front and prevent "horrendous loss of life".
"I had a phone call from my wife not so long ago and of course it was my fault that a tree has apparently gone down in my garden and over the neighbour's garage," he told BBC Radio 4's Today programme.
"So even I don't escape and I can hear some of you saying 'serves him right!'."
Asked if the scale of the storm had been overplayed this time, he said: "No, no. It's been a terrific storm.
"There has been massive damage and if we hadn't been banging the drum for about a week or so there could have been some horrendous loss of life as well. I am hoping and praying that we have virtually avoided all that."
Expressing amazement at the accuracy of computer modelling, he said: "It couldn't be done in my day. We were only able to do forecasts for one or two days ahead."
Shortly before the storm hit in 1987, Fish told viewers: "Earlier on today apparently a lady rang the BBC and said she heard that there was a hurricane on the way. Well, don't worry if you're watching, there isn't."
Fish has since pointed out that he was not talking about the UK at this point and was referring to Florida – and that he did warn viewers to "batten down the hatches".
The incident has achieved such notoriety that it featured in the opening ceremony of the London 2012 Olympic Games.
"What better accolade?" Fish added.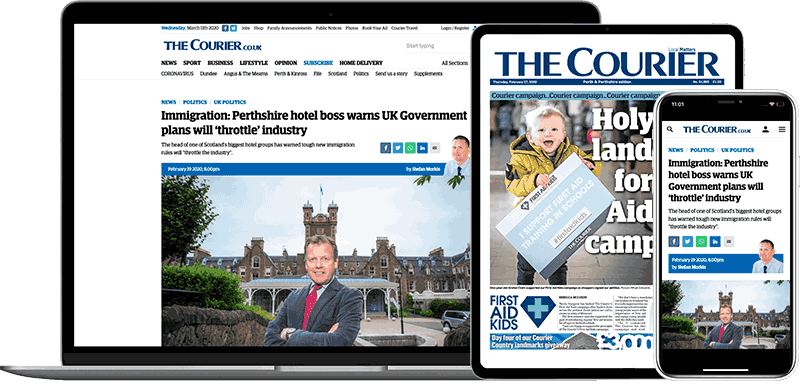 Help support quality local journalism … become a digital subscriber to The Courier
For as little as £5.99 a month you can access all of our content, including Premium articles.
Subscribe