 David Cameron is heading back to 10 Downing Street amid a General Election in which the Conservatives are on track to far outperform expectations, while the SNP made dramatic advances at Labour's expense.
Meanwhile, Liberal Democrats suffered savage losses with senior figures including Business Secretary Vince Cable, Energy Secretary Ed Davey and justice minister Simon Hughes ejected from the Commons by voters, although leader Nick Clegg held his seat in Sheffield Hallam.
Mr Clegg raised question marks over his own future as leader, saying he would speak to party colleagues "about the implications of this election both for the country and the party I lead and for my position in the Liberal Democrats" on his return to Westminster later this morning.
An exit poll predicted the Conservatives would win 316 seats to Labour's 239, but the academic who led the operation said that early results suggested Mr Cameron's party could reach the magic 326 number needed to command an absolute majority in the House of Commons.
A Press Association forecast after 320 declarations suggested the Tories could win 323 seats, to Labour's 230.
As the SNP swept up one Labour stronghold after another – toppling the party's Scottish leader Jim Murphy and shadow foreign secretary Douglas Alexander and snatching the former constituency of ex-prime minister Gordon Brown – the party's former leader Alex Salmond said there had been an "electoral tsunami" north of the border.
Mr Salmond, who returned to Parliament as MP for Gordon, said: "There's going to be a lion roaring tonight, a Scottish lion, and it's going to roar with a voice that no government of whatever political complexion is going to be able to ignore."
But the party was denied the clean sweep some had predicted north of the border, as the Liberal Democrats held Orkney and Shetland, Ian Murray held on to Edinburgh South for Labour and David Mundell remained the only Tory MP in Scotland, holding onto Dumfriesshire, Clydesdale and Tweeddale.
Labour appeared to accept it was heading for defeat, as a party source said the seats it had lost to the SNP would be "crucial if David Cameron ends up back in No 10".
Veteran former minister Jack Straw said Ed Miliband would have to "make up his mind about his future" as party leader.
The party's campaign vice-chairman Lucy Powell said it was "premature" to discuss whether Mr Miliband should go, but there were signs of internal dissent, with respected backbencher John Mann tweeting: "Can't say that Labour leadership weren't warned repeatedly – those who even bothered to meet, that is. Never hurts to listen."
Former home secretary David Blunkett urged the party not to retreat to a "bunker", saying: "We must not revert to the far left. We must not allow ourselves to turn inwards. We must try to heal the hurt that people will be feeling."
There were some Conservative losses, including employment minister Esther McVey, who lost Wirral West to Labour by 417 votes. But Conservative chief whip Michael Gove said it appeared Mr Cameron had won "a very handsome victory".
Mr Gove described the exit poll figures as "an unprecedented vote of confidence in David Cameron's leadership" and said he would have "considerable authority" to "go forward with a secure and stable government in the national interest".
And London mayor Boris Johnson swept back into Parliament as MP for Uxbridge and South Ruislip, saying that voters had "decisively rejected the old-fashioned and outdated policies of division" represented by Mr Miliband.
The exit poll of 22,000 voters for BBC/ITN/Sky suggested Mr Cameron would be holding on to power by his fingertips, without the luxury of a stable coalition with a comfortable majority offered by his partnership with Liberal Democrats over the past five years.
But after Tories comfortably held the key Labour target of Nuneaton, exit poll supremo Professor John Curtice of Strathclyde University said: "In practice we now have to take seriously the possibility the Tories could get an overall majority."
A collapse in Liberal Democrat numbers was predicted to leave the party with just 10 seats – down from 57 in 2010. High-profile casualties included Home Office minister Lynne Featherstone, women's minister Jo Swinson and whip Jenny Willott.
With a sharply reduced presence on the green benches, the Lib Dems will have far less clout as a possible coalition partner, particularly if they are dominated by left-of-centre figures such as former president Tim Farron, a certain contender for leader if Mr Clegg steps down. The battered party may prefer to remain in opposition to lick its wounds.
Labour sources suggested that Ukip leader Nigel Farage might have failed in his bid to enter Parliament as MP for Thanet South, while the BBC quoted Arron Banks – a major donor to the Eurosceptic party – as saying he believed Conservatives had won the seat.
Ukip gained its first seat in a General Election, but its majority in Clacton was significantly reduced from the by-election last year when Tory defector Douglas Carswell became its first elected MP. It missed out on targets in Thurrock, Castle Point and Great Grimsby.
If the exit poll proves correct, it would be the first time that a ruling party has increased its tally of seats since 1983, with Conservatives increasing their strength at Westminster by 10, compared to 2010.
It would give Mr Cameron the option of attempting to form a Conservative-only minority government without having to offer ministerial posts and a role in framing legislation to coalition partners.
Although a tally of 316 is below the 326 threshold for an absolute majority, it is very close to the lower figure of 321-322 needed for all practical purposes, assuming Sinn Fein MPs do not take up their seats.
A minority Tory government might hope to get its legislation through with the support of Democratic Unionists, who are likely to win around eight or nine seats in Northern Ireland.
But Mr Cameron would face a battle to impose discipline on 30-40 right-wing Tory backbenchers on issues such as Europe and the family, where they have already established a rebellious record in the 2010 parliament.
The arithmetic could even hand the balance of power in key votes to Ukip MPs, who could be expected to use any leverage this gives them to put pressure on the Prime Minister to bring forward his planned in/out referendum on Britain's membership of the European Union, currently scheduled for 2017.
The exit poll was starkly at odds with polling during the election campaign, as well as two large-scale conventional surveys conducted after people had voted, one of which had Labour and Tories tied on 34% while the other put Labour on 31% to the Conservatives 34%.
The pound rose by around two cents against the dollar in the wake of the release of the exit poll, with IG senior market analyst Chris Beauchamp saying: "A strong Conservative element to the next government sends the message that the economic policies of the past five years will continue, removing concerns about an early end to austerity."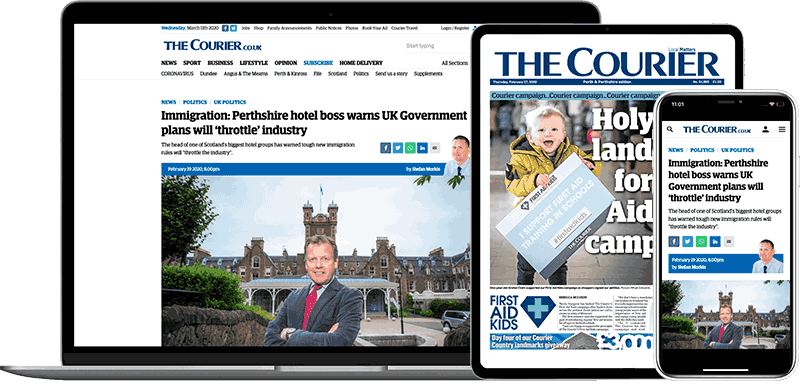 Help support quality local journalism … become a digital subscriber to The Courier
For as little as £5.99 a month you can access all of our content, including Premium articles.
Subscribe