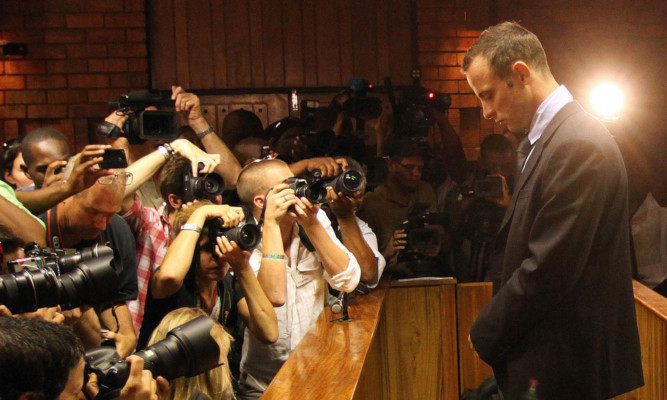 Oscar Pistorius was today granted bail as he awaits trial for killing his girlfriend.
Supporters could be heard saying "yes", and members of the athlete's family wept and appeared to pray after Chief Magistrate Desmond Nair announced his decision following a 90-minute speech to the court in Pretoria.
"Blade Runner" Pistorius (26) is accused of murdering 29-year-old model Reeva Steenkamp at his home last week but claims he shot her through a bathroom door thinking she was an intruder.
Realising his mistake, he broke the door down with a cricket bat and carried her downstairs, he claims.
During the lengthy hearing, Pistorius was obviously emotional, sobbing as Mr Nair summed up the evidence the court has heard, including the Paralympian's own account of what happened when he opened fire.
Granting bail to the athlete at Pretoria Magistrates' Court after the four-day hearing, Mr Nair, who previously described his task as "unenviable", said there was no suggestion that Pistorius was a flight risk, he did not appear to have a propensity to violence, and there was no evidence that he would interfere with witnesses.
He said Pistorius had "reached out" in his affidavit describing what had happened, and pausing before he delivered his final decision to the packed courtroom said: "I come to the conclusion that the accused has made a case to be released on bail."
Bail was fixed at 1 million rand (£73,822) including 100,000 rand (£7,382) in cash. Pistorius must surrender any firearms and his passport and cannot enter any international departure hall.
He is also banned from using any prohibited substance or alcohol.
The case was adjourned until June 4.