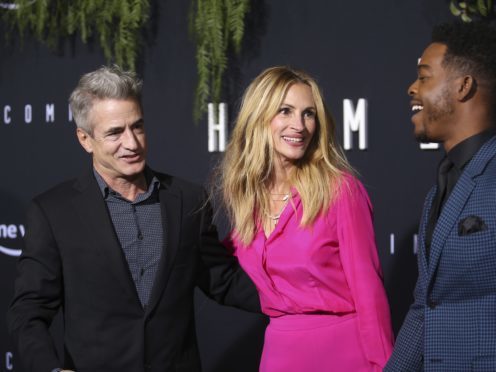 Julia Roberts has reunited with her My Best Friend's Wedding co-star Dermot Mulroney for new TV show.
The superstar shared a black-and-white photograph of the duo shortly after the premiere of their new show Homecoming.
The duo will appear on screen together again more than 20 years after the 1997 film, in which the pair had a pact they would marry each other if they were still single by the time they were 28.
Just four days before her birthday, Mulroney's character Michael breaks the news he is engaged to be married, prompting Roberts' Julianne to devise a plan to break them up.
In the new picture, the duo can be seen cuddling and Roberts captioned it simply: "Yep."
They both star in Homecoming, in which Roberts works at a facility helping soldiers transition to civilian life.
It will stream on Amazon Prime Video from November 2.