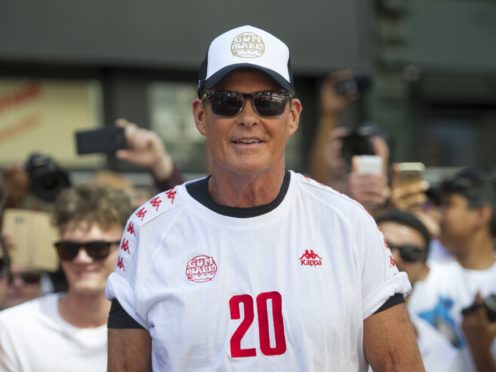 One of Scottish football's most unlikely fans showed his colours as he took in the sights in Edinburgh.
Former Knight Rider star David Hasselhoff was sporting a Partick Thistle shirt in the Instagram snaps taken ahead of his appearance at Comic Con in the Scottish capital.
The 65-year-old wrote: "Love Edinburgh – Come on the Jags! See you at Comicon Scotland at the EICC Saturday and Sunday 'Don't haggis the Hoff'"
Hasselhoff has previously talked about how his love for the Jags grew during a stint appearing in panto in Glasgow.
He told BBC Scotland in 2015: "They've been around since 1876 and I love that. It's about playing for themselves and playing for your honour."
He also described himself as the club's "lucky mascot".
The Jags need all the support they can get at the moment.
Gary Caldwell's side are eighth in the Championship having lost their last six matches.
Hasselhoff's snaps showed him taking in the sights of the capital including Circus Lane and cheese shop IJ Mellis.
Comic Con takes place at the Edinburgh International Conference Centre on Saturday and Sunday with an 1980s theme.
Other stars appearing include Ghostbusters' Ernie Hudson, ET actor Henry Thomas and seventh Doctor Sylvester McCoy.