 Last week I had a phone call from someone I consider myself lucky enough to be able to call a friend and who I first became acquainted with around eight years ago.
"Jennifer," he said. "I've thought long and hard about this. I'm going to resign from the Labour Party and join the SNP."
Brian Cox is a man many of you will no doubt be familiar with, whether it's for Hollywood blockbusters or his work at the Royal Shakespeare Company and the National Theatre, or you may even have become more aware of him through BBC Scotland's comedy Bob Servant, filmed in Broughty Ferry.
However, it's for his work outside of acting that I got to know Brian. He was elected in 2010 as Rector of the University of Dundee, and is patron for the Scottish Youth Theatre, as well as being a prominent independence campaigner all of which he dedicates a lot of time to.
As someone who has been involved with the SNP for 10 years, I was obviously delighted to hear he was joining. But I wondered, knowing Brian had a long relationship with the Labour party, what had made him, like so many others lately, take the leap.
Brian came from very humble beginnings and did not have it easy by any means.Brian Cox: Why I've quit Labour for SNP Blog:Brian Cox's defection to the SNP is a hammer blow for Jim Murphy and LabourA son of Dundee a badge he wears with immense pride he was the youngest of five children and grew up in serious poverty, with his mother very ill and his father dying when he was just eight years old.
But his life changed when he joined the Dundee Repertory Theatre at the age of just 14 where his talents for acting flourished.
It was these beginnings that formed his strongly held belief in social justice and found his home in the Labour Party for his convictions as a democratic socialist.
You may recall he even did the voiceover for the party's broadcasts in the 1997 General Election which he described as "when hope did indeed spring eternal." He also campaigned for Labour in the run-up to the 2007 Scottish Parliamentary elections.
It was around this time that I first started talking to Brian, which resulted several years down the line in him supporting the SNP's policy of restoring free higher education in the 2011 Scottish Parliament election, but not backing the party. That was made clear: Brian was a lifelong Labour supporter and that was that. I never questioned this.
But a lot has changed since then. In a resignation letter to the Labour Party he said: "I always believed the Labour Party stood for social democracy but sadly I no longer believe that they do. The party was founded by Keir Hardie, where the principles of the British Labour Party and Scottish Home Rule were compatible. However the referendum showed how deep the division is between the compatibility."
To some people it may be no surprise that Brian Cox has joined the SNP. Scottish Labour say around 190,000 of its supporters voted Yes in the referendum and Brian campaigned with them, and everyone else on the pro-indy campaign, passionately, from the very start right until polls closed.
Many have joined the SNP and they now stand as the third largest party in the UK. It seems one of the reasons for the crossover is Labour's alliance with the Tories in the referendum campaign.
A Survation poll published last week pointed to figures which suggest 31% of people are now less likely to trust the Labour Party in Scotland as a result of their decision to campaign alongside the Tories in the No campaign, compared to just 14% who say they are more likely to trust Labour. Fifty per cent said it made no difference.
But there was one particular incident which troubled Brian during the campaign. The Yes campaign had been in Dundee, as had Labour.
One of those classically awkward moments had happened when the two campaign trails bumped into each other. It's the equivalent of a red carpet dress clash.
Brian said that a Labour figure had been asked by a Black Watch Iraq war veteran who was suffering from post-traumatic stress to explain why he supported the Iraq War and he was given the reply: "Tell me another story."
In his resignation letter Brian refers to this incident, and says: "I cannot give my allegiance to someone who so blatantly ignores questions that are on the minds of so many people."
Recent events alone are enough to explain the change in political support for many. A Blairite was elected as Scottish Labour Leader. A watered-down Vow to deliver "extensive new powers" (promised by a former Scottish Labour Prime Minister) was published by the UK Government which isn't anywhere close to Home Rule.
We have seen Labour MPs vote with the Tories for £30 billion more austerity cuts, vote with the Tories to spend £100 billion on a new generation of Trident nuclear weapons, and abstain on a crucial vote for a fracking moratorium.
It is for these reasons, and many more, it seems so many are now putting their faith in a party which wants to ensure that instead of being sidelined, Scotland's interests are taken seriously.
The opportunities for Scotland with a strong block of SNP MPs in the House of Commons are great and I'm genuinely excited by the prospect.
A hung parliament means that Scotland's interests must be heard and acted upon, whether that's helping to deliver a meaningful Home Rule settlement, protecting the oil and gas industry, or safeguarding our place in Europe by ensuring that all four UK nations would have to vote for EU withdrawal before the UK could exit.
So, to Brian and all the new SNP members, supporters and those that are wanting a break from the old we are on the cusp of something very exciting with the opportunity to shake up the Westminster establishment.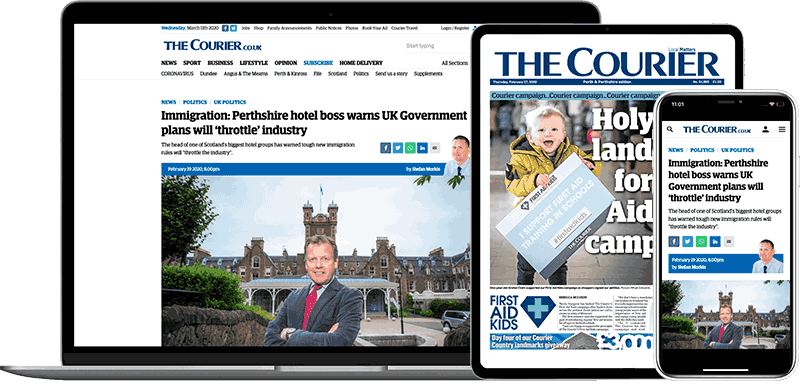 Help support quality local journalism … become a digital subscriber to The Courier
For as little as £5.99 a month you can access all of our content, including Premium articles.
Subscribe