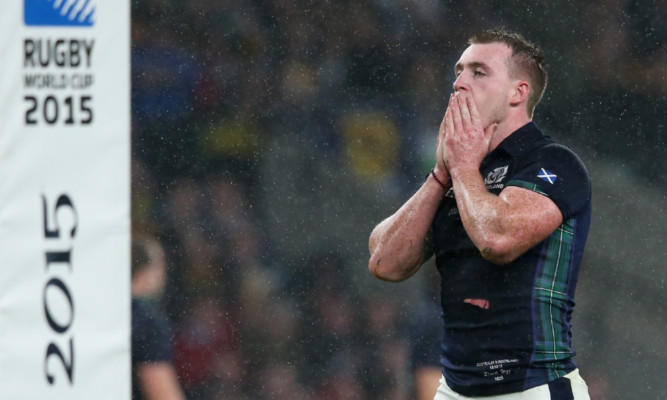 It was meant to be a joke, but in this crazy World Cup even the most outlandish jokes turn into reality.
During a quiet moment in the week leading up to the quarterfinal, the Scottish press corps were discussing among ourselves what would be, professionally, the ideal scenario if Scotland couldn't upset the odds and beat Australia (and despite what the team, coaches and some fans might think, we do fervently want them to win).
The general agreement was for a glorious failure (why upset the national stereotype?) plus, if at all possible, an element of injustice we could spin as a story at least until the next World Cup and maybe beyond.
Oh how we laughed. Until this exact scenario occurred on Sunday afternoon at Twickenham, and all hell let loose.
Even Jose Mourinho is now referring to how Scotland were shafted. This has gone beyond the cosy confines of rugby into the common vernacular.
But here's an attempt to take it back.
Scotland lost the quarter-final for rugby reasons of their own making, which if they are honest in their thorough debrief and Vern Cotter will be that, for sure they'll recognise and look at ways to solve it in future.
First, Craig Joubert, but we need only be brief. He made a mistake at a crucial moment, and it's probably defined his career. But it was an honest one he can't get back and couldn't at the time.
I strongly disagree with his decision to run from the pitch at the end of the game when he should, in the greatest traditions of rugby and sport, looked Greig Laidlaw square in the eye and shook his hand.
But pillorying him any further like World Rugby did, unforgivably with their "clarification" is utterly pointless and even vindictive.
Anyway, one of rugby's cardinal rules is: make the referee irrelevant. And the Scots had ample opportunity to do so in the final minutes on Sunday.
They could have taken the kick-off safely. They could have scrummaged Australia stiff, as they'd done all afternoon. They could have taken a safe lineout option and the ball wouldn't have got to the fateful fumble that Joubert misinterpreted.
Great teams, winning teams, do not get gifted an interception try at the death and then hand the gift right back. They close out tight games with the basics like Australia eventually did, albeit it was less than a minute instead of four they had to run the clock down.
Scotland spent a great deal of time this summer working on "decisions under fatigue". At the end of intensive training sessions, with players already tired, Cotter had them work on fine skills and decision making under pressure.
Why? Because the clear evidence has been the Scots lack composure in these situations. Too often close games have been lost as a result of this.
Only this year, there was the catalogue of mistakes that cost them a win over Italy at Murrayfield and inevitably led to a Six Nations wooden spoon. Even in the warm-ups, a simple delivery from the base of a ruck would have resulted in Scotland winning in Paris but a rushed pass missed the receiver.
Sunday's finish was familiar, and many thought Cotter had removed two of his key decision-makers too early. That fateful final lineout was after Ross Ford, the hooker, and Jonny Gray, the chief lineout caller, had been taken off.
Both had, of course, missed two days' training because of the other curiosity of Scotland's week, the three-week bans imposed and then remarkably overturned on the eve of the game.
Both are among Scotland's most industrious players and had put in arduous shifts in the tournament.
If Ford had been there to throw and Gray had called one to the front would Scotland have survived? Maybe, but taking them off was a sound and probably necessary decision. They were spent, and so was WP Nel, the indomitable tight head.
Scotland might also point to the absence of Alex Dunbar, the defensive lynchpin in the backs, for the entire tournament after ACL reconstruction. The Scots conceded 12 tries in their last three games in England.
But this misses the point, like the pillorying of Joubert. International rugby is a fraught, intense business. You're going to get these tight situations. Your top decision makers aren't going to be there all the time.
Scotland are a young squad, with great potential and lots to learn. Learning to win, and to be cool in pressure situations, is now the crucial lesson.