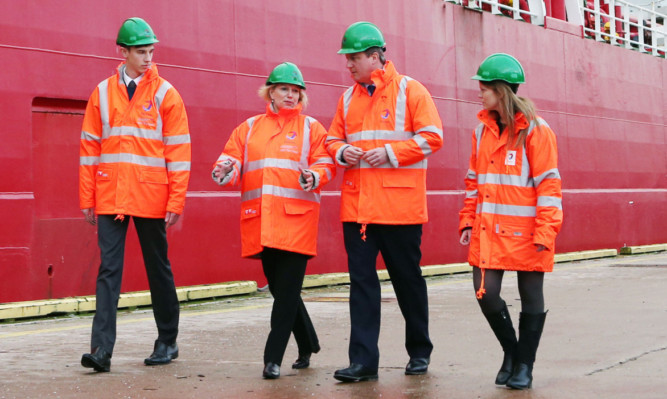 David Cameron and Nicola Sturgeon rode north on their stallions this week to each proclaim themselves the saviour of Europe's oil capital.
While I might be using a little journalistic licence in that summation, it was clear the two leaders wanted their share of the glory as Aberdeen received its much vaunted City Deal settlement.
Based purely on the numbers it was the First Minister who won the day, with the Scottish Government providing the bulk of the £504 million investment package heading the way of Scotland's third city.
The cash bonanza will fund an energy innovation centre and the expansion of Aberdeen's clogged harbour to allow the city to compete for decommissioning work.
It will improve digital and transport infrastructure and unlock new affordable housing projects.
That all sounds great, but I have one problem with it the cash went to the wrong city.
I'd argue that Dundee and Perth jointly progressing a City Deal bid at the moment are more worthy of that investment at this moment.
That may sound like sour grapes, but my rationale is this.
As the black gold tap ran, Aberdeen had its chance to build a broad-based economy fit to withstand the rigours of the modern world. It had the opportunity to future-proof itself and create prosperity for generations to come.
But, if not lost, that chance has certainly not been grasped
The oil and gas sector is cyclical and I'm sure there will be better times ahead, but it is a sign of how far things have gone that Aberdeen was tripping over itself this week to commend the new City Deal.
Remember, oil impresario Sir Ian Wood personally offered a tenth of the total cash injection being put forward by TWO governments to secure the city's future, just to tart up Union Terrace Gardens.
But what I object to most after all, Aberdeen has paid its taxes and deserves support in times both good and bad is the swiftness of the bail-out for Aberdeen.
I commend the Granite City's politicians for their work in getting a deal agreed so quickly, but I can't help thinking there are others who have waited in the queue for regeneration for much longer.
Dundee, for one, was left drowning in the post-industrial doldrums for decades after the jute factories fell silent, Timex quit and the shipyard closed.
Admittedly it was pre-City Deals, but the 1980s and early 1990s were grim times for the city as the jobless count rose and poverty expanded insidiously through the housing schemes.
Perth struggled, too. But there was no lifeline. There was no bail-out.
With piecemeal help at best, both cities had to make the best of a bad job, and have made a great fist of turning their fortunes around.
Dundee, especially, has spent years dragging itself up by the bootstraps and now has a brighter future opening out in front of it.
That path would undoubtedly have been eased had there been the local political consensus at a much earlier stage to push for centralised support.
Happily that consensus now exists both within Dundee and in its economic environs and the prospect of a City Deal to bolster this region is now a very real one.
That will help attract further private-sector investment and that can only lead to jobs, wealth creation and prosperity.
The sooner that happens, the better.