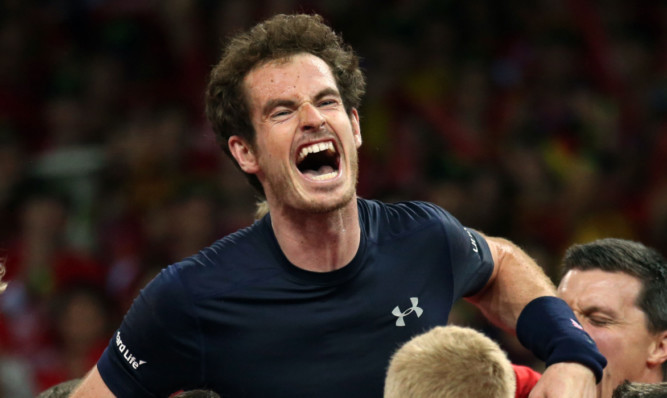 Do we take sport too seriously? Have we elevated it beyond its rightful place as a simple entertainment?
Despite allegations of Fifa corruption in football and doping in athletics and cycling, we still place our sports stars on a mighty pedestal.
Karl Marx famously said religion was the opium of the people, but in these more secular times is sport the new addictive drug of choice?
A senior football journalist said to me recently that we set far too much store by how our sportsmen and women perform. Football in particular was singled out for criticism.
It made me wonder if his sceptical view of the beautiful game is perhaps right.
Why do we celebrate the achievements and enjoy the defeats of perfect strangers as though they were people closely connected to us?
While it was a joy to celebrate Andy Murray's epic performance in the Davis Cup win in Belgium, I had a slightly queasy feeling that the victory was being celebrated as more than a simple game of tennis.
Conflated in the Murray Team GB success was an outpouring of national pride and emotion, which is strange given that in essence sport, even team sport, is essentially a selfish and solitary pursuit.
Athletes put so much commitment, effort and sacrifice into their various disciplines that I think we fool ourselves if we think our enjoyment of their triumphs and our despair at their defeats entitle us to anything other than vicarious bystander status.
Few fans really appreciate the solitary world of the sportsman and woman. The physical and emotional investment in their chosen sports and the rollercoaster of highs and lows of their competitive existence are, by their very private nature, a mystery to us.
In professional sport competitors are doing it for themselves and their family.
It is, after all, their very livelihood and one which many fans would see them lose without giving it a second thought if they were not performing well enough for the team or getting the right results.
Football fans in particular are brutal in their criticism of players who they deem to be failing.
Whether it is injury problems, domestic issues or loss of form, none of these excuses cut any ice with a baying crowd with a collective desire to see their team win and who feel that an underperforming player is hampering that cause.
Long serving players who have given valuable service, often battling through the pain barrier of injury or psychological worries of a career in its twilight, are cut very little slack.
Players, accompanied by uncertainty as their constant companion, are given no leeway when performances dip below what the fans deem as acceptable. It can be a lonely place among the throng of the crowd.
But why is sport so important to us?
I think it combines many things. A touch of envy; the thrill and excitement of the crowd; the euphoric release from boring, mundane everyday normality.
Mainly though, I think it's rooted in a sense of kinship and community and identifying with a cause.
That I think is the powerful drug which hooks us.