 If you are from Fife you are probably so full of beans that you don't need any more excitement in your life.
However, if you are on the look-out for fresh thrills then Monday's Courier has splendid news exciting developments are afoot.
That's right, in just a few short months, St Andrews could be set to feature on a brand new Monopoly board.
Told you it was exciting.
Just imagine the Old Course, the Castle, the Cathedral, the University, the West Sands, my old school (still no plaque marking the fact, amazingly)…
It's a winner, surely.
Find out more in Monday's Courier.
Elsewhere (actually still in St Andrews) we have some rather fruity shots from the university's big fashion show (not the one Kate and Wills met at, the other one).
If it's racy start to the week you are after, it will I am confident be the very dab.
Meanwhile, booze at the football.
Bit of a perennial talking point really isn't it?.
Now Jim Muprhy wants to put it up front and central in Labour's plans.
He'll be over the moon if he can get the ban reversed. And he'll fight for it 110%. Having said that, he knows it will be a tough one and admits it could be a game of two halves. It's the result that matters at the end of the day though.
We have the full story, and reaction. Brian.
We also feature the news of the pampered pooch set to get a pricey op to ensure he can walk again after months of waddling like a duck.
Animal magic.
* I've given it a lot of consideration and I honestly can't think of a better way to start the working week. Please do snap up your copy or, if the mood takes you, why not try our digital edition?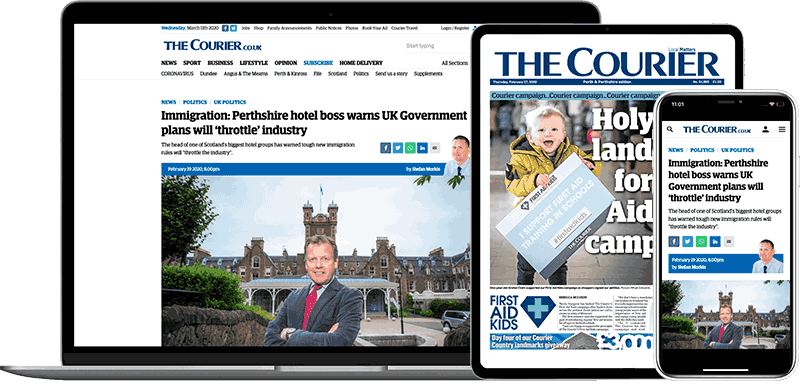 Help support quality local journalism … become a digital subscriber to The Courier
For as little as £5.99 a month you can access all of our content, including Premium articles.
Subscribe