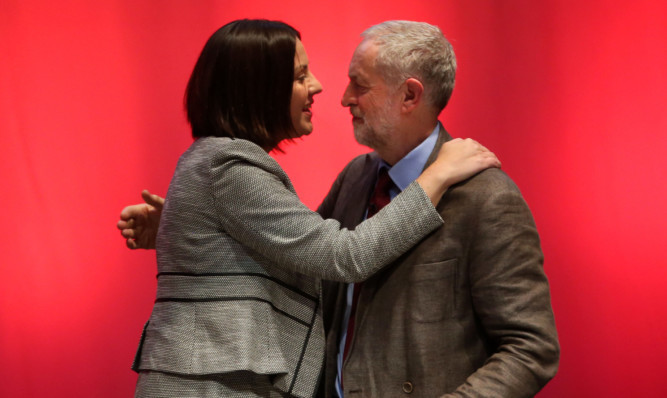 There was a photograph in some of Monday's newspapers of Kezia Dugdale looking even younger than her 34 years. Tough as she must be to have wanted to lead the Scottish Labour Party, there is, nevertheless, a hint of fragility about her.
This is neither ageist nor sexist; even Margaret Thatcher at her battle- hardened best, or a finger-bitten Gordon Brown would have quailed at the prospect that confronts Dugdale.
With the Holyrood election in a little over six months, she had hoped to present her party as a plausible opposition to the Scottish Nationalists. That was always going to be difficult, given the SNP's apparently unassailable dominance of Scottish politics.
However, at the start of Scottish Labour's conference in Perth last weekend she must have convinced herself there was little to lose and much to gain.
Now she finds she is in charge of a party that, if possible, is in an even worse state than when it was almost annihilated in the general election last May.
She is hardly to blame she has not been in the job long enough to be held responsible for all Labour's problems but she cannot be completely excused either.
Although not of the Corbyn wing of the party, she has nevertheless drifted uncomfortably in that direction, aiming pot shots at the Scottish middle classes, by threatening to raise taxes and even appearing to abandon her strong Unionist roots, in giving Labour candidates a free rein on independence.
She has managed to frighten the moderates who put Tony Blair into power in three consecutive Westminster elections and frustrate the militants who, until recently, had been outside the mainstream political parties.
A mess
The result is a mess. In Perth Concert Hall, some union leaders were defending the renewal of Trident and along with it, thousands of Scottish jobs, while party activists were calling to scrap Britain's nuclear deterrent.
In the end, more than 70% of delegates sided with the disarmament mob and Scottish Labour will now be forced to adopt this as policy in its Holyrood manifesto.
Instead of offering voters a clear alternative to Scottish nationalism next May, Dugdale, a supporter of Trident, now presides over a party at odds not only with her but with the Labour Party nationally, though in line, of course, with Jeremy Corbyn, who is still the vice-chairman of CND. However, Trident is the least of Dugdale's headaches.
This is not the first time Scottish Labour has voted against the UK's nuclear capability. In 1997, the year the New Labour project bore fruit and Tony Blair was swept into Downing Street, 80% of the party here voted against Trident.
A far more sinister development is the recent infiltration of Labour by hardline socialists.
As The Courier reported last week, a group calling itself Momentum is launching in Scotland, aimed at Labour members and non-members alike. It emerged from Corbyn's leadership campaign and is seen as a new front for the far left.
Those with long memories will perhaps recognise the parallels with another radical movement that tried to destroy the Labour Party from the inside. The Militant Tendency, the refuge of Trotskyists, became the scourge of the party in the 80s until leading lights like Derek Hatton who almost brought the city of Liverpool to its knees were expelled.
Hatton is said to have rejoined the party this year to vote for Corbyn, a sure sign that extremists are once again attempting to hijack Labour.
Selection battle
In Scotland, there is another battle looming, over Labour's selection of candidates.
The MSP Neil Findlay, a Corbynista who once stood against Jim Murphy for the leadership, is trying to change party rules so new members have a say in the regional list election process.
The move is being seen as a bid to oust popular MSPs, such as Dundee's Jenny Marra and former MP Thomas Docherty in Fife, for left wingers; the fight for seats in Glasgow is being described as a "bloodbath".
Is this how Scottish Labour thinks it will defeat the SNP? Stephen Low of the Campaign for Socialism, a Corbyn acolyte who championed the vote against Trident in Perth, said the SNP now "has one stick less to beat us with".
Will Labour's lurch to the left really win back all those Scottish voters who deserted in droves for the Nationalists, or have they gone for good?
The SNP has been having troubles too with its more excitable rank and file troubles Labour, if it had got its act together, could have exploited.
However, it is the party of government and, agree with it or not, it has a momentum of its own.
The people who put it there are more likely to back a winner than the sure loser that is Labour.