 Today's letters to The Courier.
Disabled need Remploy factory work Sir,-I have been approached by a Remploy employee requesting me to sign a petition to ensure Remploy factories are not closed in the not too distant future.
Threatened in 2007, by the then Labour government, many Remploy factories are again under scrutiny and threatened with closure by the ruling Con/Dem government.
So much for the hollow promises of politicians at the last election, when they openly promised to safeguard Remploy factories and keep the disabled in work.
Ironically, what makes things worse are attempts by the Con/Dems in Westminster to get those that are sick back into work.
Bob Harper.63a Pittenweem Road,Anstruther.
Common sense abandoned
Sir,- I was a child in the 1940s and 1950s. As a nation, we lived by simple rules where common sense and discipline prevailed.
Don't spend more than you earn and don't borrow more than you can afford to pay back. The role of disciplinarian was shared equally by parents and teachers.
As the years progressed and as a result of bureaucratic red-tape, hare-brained policies and overbearing regulations, we have witnessed the demise of both common sense and discipline.
This has led to a host of unbelievable scenarios.
A teacher fired for disciplining an unruly pupil and parents attacking teachers for attempting to do the job which they had failed to do.
The case at Darwen Vale High School, in Lancashire, where teachers staged a 24-hour strike in protest at the level of violence they were being subjected to by pupils.
Reports of a six-year-old boy being charged with sexual harassment for kissing a classmate in school.
Schools that require parental consent to administer sun lotion or an aspirin but not being allowed to inform parents if a pupil becomes pregnant and wants to have an abortion.
A burglar can sue a homeowner for assault when he attempts to protect himself and his property.
A woman failed to realise a steaming cup of coffee was hot and was awarded a huge settlement after spilling some in her lap.
Shutting down the large TV display at this year's Wimbledon Championship in case any of the spectators injured themselves by slipping on the wet grass.
The list is endless. Common sense and discipline died simply because they gave up the will to live.
Roy R. Russell.1c Smithy Road,Balmullo.
Skills learned at Noranside
Sir,-I write in response to your article "Concern over jail closure impact" (August 8), with which I wholeheartedly agree.
The announcement that Noranside open prison is set to close later this year, with inmates transferring to Castle Huntly, is a terrible blow for Angus.
It is also a terrible blow to those inmates who are so successfully turning their lives around undertaking work placement programmes.
We have two full-time inmates on placement and the work they do at our animal sanctuary is invaluable.
They are very much part of a tight-knit team . The skills they have built up are put to excellent use.
The loss of them to our team will be immense.
I know the inmates have benefited greatly, gaining valuable skills for when they are released.
I can't imagine the public coffers will stretch to transporting inmates from Castle Huntly to Angus to allow them to continue work placements.
But unless the Scottish Prison Service has a support mechanism up its sleeve, we're at real risk of losing manpower. It could also be a setback for rehabilitation.
Pam Taylor.General manager, Mountains Animal Sanctuary,Milton of Ogil.
Commercial flights from Leuchars
Sir,-I see the closure of Leuchars as an RAF base as a tremendous opportunity for Scotland if a stronger emphasis can be put on utilising it as a commercial airport.
In 2004 Ryanair wanted an east coast alternative to Edinburgh and offered to introduce five new routes in the first year, each route worth £40 million to the Scottish economy.
Using already built facilities at Leuchars would offer almost overnight transition, with an existing rail link and adequate road links.
It would also offer savings as there would be no need of a second runway at Edinburgh. And local tourism would be helped.
Jobs created would more than compensate for those lost from the RAF. Logically it would allow Dundee Airport to close, saving the £2 million per annum that subsidises that airport with its serious constraints.
The site is big enough to be shared with the army, which would lead it to become one of the most secure airports in Britain.
Mike McWilliam.26 Hillside Road, Dundee.
Get involved: to have your say on these or any other topics, email your letter to letters@thecourier.co.uk or send to Letters Editor, The Courier, 80 Kingsway East, Dundee DD4 8SL.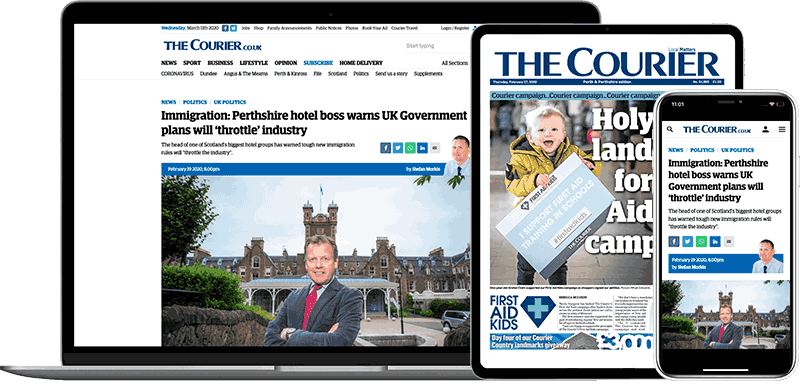 Help support quality local journalism … become a digital subscriber to The Courier
For as little as £5.99 a month you can access all of our content, including Premium articles.
Subscribe