 Sir, – It is important to note that Michelle Thomson MP appears not to be the focus of the police investigation stemming from irregularities the Scottish Solicitors' Disciplinary Tribunal may have uncovered (September 30).
Indeed, Ms Thomson is clear that she has "always acted within the law".
However, while Ms Thomson's actions may well have been legal, this does not mean they are morally acceptable.
Her company, M&F Property Solutions, are accused of targeting people who were desperate and exploiting that vulnerability.
Vulnerable people need to be supported, not exploited.
That's the way society works.
The kind of predatory capitalism Ms Thomson may have been involved in may well be legal but it has no place in Scotland.
These are serious allegations about an SNP MP who leads business policy decision making in the party.
Can Ms Thomson now credibly support constituents with mortgage problems given her history?
We need full disclosure from the people at the very top of the SNP about who knew what and when.
If the SNP are serious about delivering social justice in Scotland they must also now permanently remove her from the party.
This will send a clear message that predatory capitalism has no place in Scotland.
Dr Scott Arthur, Buckstone Gardens, Edinburgh.
What's wrong with Scotland?
Sir,- Why is it that only Scotland is considered incapable of being a normal independent country?
Lots of other nations seem to manage just fine, many with a fraction of the resources and ingenuity of our lands and people.
How does Malta manage with no whisky? How does Switzerland survive with no oil and gas? And how does Denmark even dare to have its own currency?
Politics aside, the bottom line is we could easily rejoin with others in enjoying the benefits of self-government.
Richard Clark, Craigton, Monikie.
An ill-considered experiment
Sir,- May I please attempt to resolve the puzzlement of David Roche as expressed in his letter (September 28).
The first issue is that the SNP has never been able to conclusively show that Scotland and its people would be better off outside of UK.
Scotland has a population of 5.2 million of which approximately 3.2 million are of working age. 70% of us live in the Central Belt because large areas of our small country are not easily habitable.
The tax-take from such a relatively small population will never be sufficient to meet the expansive spending plans of the SNP were Scotland to become independent. So what then?
Cut the welfare and public sector spend? Borrow massively in international markets and put a millstone round the neck of future generations?
Is it any wonder that, after the debacle of "Scotand's Oil", we have heard nothing more about the full fiscal autonomy issue from the SNP the reason being that it has finally dawned on the SNP it is simply unfeasible.
As for that old chestnut of comparisons with Scandinavian countries, the Norwegian standard tax rate is 28%, its VAT rate is 25%. The Danish standard tax rate is 44% and its VAT rate is 25%
Ireland has accrued an enormous debt burden as a consequence of mismanagement of its economy since joining the Eurozone and the need for bailout.
We have yet to hear from John Swinney what the tax regime of the SNP will be and the justifications for it, but I do not believe it can ever be lower than our current UK rates.
So coming on top of the annual cost of maintaining the ill-conceived Scottish Parliament, do we truly believe that the economic and social costs of independence can ever be justified?
All of the above leave me incredulous that so many of my canny countrymen have swallowed the SNP line that independence is good, staying in the UK is bad and that we should ignore economic realities because aspiration of independence is more noble than choosing the status-quo.
What nationalists are proposing is nothing more than an ill-considered experiment that, if implemented, has the potential to blight the lives of our children and grandchildren for years to come.
Derek Farmer, Knightsward Farm, Anstruther.
Emissions put into context
Sir,- I was impressed with the natural history report (October 2).
About 66 million years ago a huge object struck the Gulf of Mexico, followed by enormous amounts of volcanic activity, covering the earth with a layer of gas and dust, leading to the end of the dinosaurs.
And yet our Earth has survived.
It puts Volkswagen, Longannet, carbon, CO2, greening strips, flatulent dairy cattle, neonicotinoids, and everything else into perspective, would you not agree?
Do we really need all these environmental (emphasis on "mental") strictures when the real threats cannot be avoided?
AT Geddie, 68, Carleton Ave, Glenrothes.
Six months more national service
Sir,- I refer to the Jim Baxter programme on BBC Alba on September 24.
It was reported that Jim was called up for National Service in November 1961.
I was born on 1 August 1939, while Jim was born on 29 September 1939.
I was called up for National Service in November 1960 and should have been discharged in November 1962.
We all received an extra six months due to the Profumo scandal.
Angus Ford, High Street, Strathmiglo. Fife.
Unimpressed by car owners
Sir,- I am unimpressed at the exhibition of new-found environmental concern by car owners who feel aggrieved that their German cars' computers have been skilfully programmed to always indicate that emissions standards are being met.
Like most drivers, as long as my vehicle passes the MOT, I don't care what emerges from the exhaust pipe.
If I gave a fig about the environment, I'd have bought a bicycle!
John Eoin Douglas, 7 Spey Terrace, Edinburgh, EH7 4PX.
Minister should chew the cud
Sir,- Labour's new farming spokeswoman (letters, October 1) assumes that humans are ruminant despite our hunter/gatherer prehistory and our evolved carnivorous digestive system.
Let her chew the cud quietly in future!
Margaretha Linacre, Marshall Place, Perth.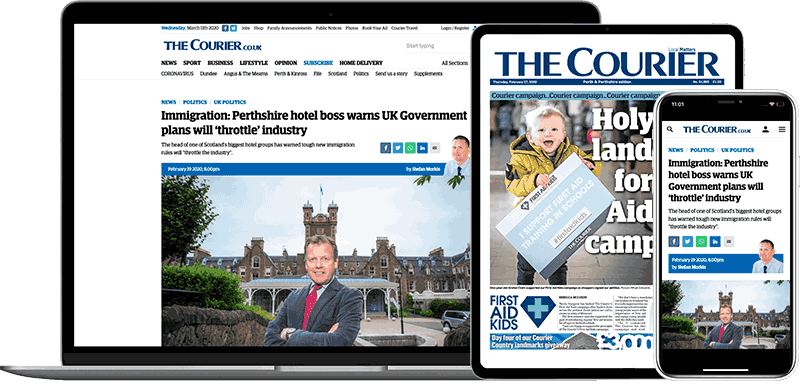 Help support quality local journalism … become a digital subscriber to The Courier
For as little as £5.99 a month you can access all of our content, including Premium articles.
Subscribe