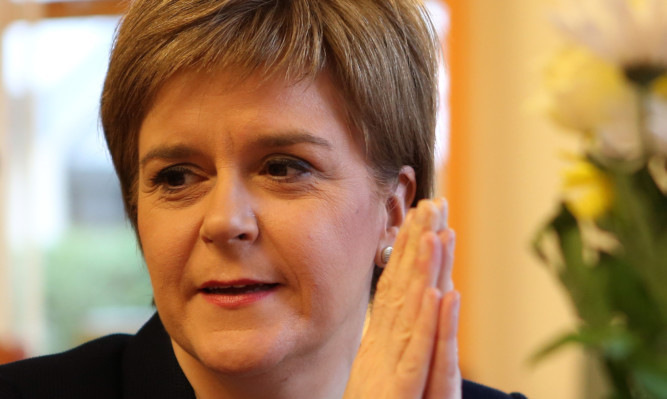 Flipping a coin is one way to choose your party at this election. The system is designed for both heads and tails one vote for the constituency, one for the list.
The assumption is these should be either for the same party "I know what I want and can't get enough of it" or for two parties in roughly the same territory "I want one vote to count, but would like to encourage this other lot".
This election should buck that thinking. This is the first time we have voted after an outright majority was won by the SNP in 2011. This matters as much to our vote as tax policy or who will love the NHS the most.
Do you want a functioning parliament, with the balances of democracy, and so to help this young political system to mature and contribute to a wider nation-building effort, or do you just want lots of SNP?
It may appear natural for the SNP to want to hog as many votes as possible, but Nats should pause a moment to consider the wisdom of this. One thing which puts people off independence is the thought it's going to be all about the SNP two majority administrations in a row won't allay that.
The second is that Scotland's interests are better served by healthy debate than docile subservience.
Little achieved
When the SNP went unchecked, they made a mess of things. They didn't achieve much with the majority, and what was committed to the statute books won't last for long.
The anti-sectarian law is a model of how not to legislate. It was knee-jerk stuff driven by tabloid coverage of an Old Firm football scuffle. The Act has achieved nothing of any meaning.
Merging eight police forces into one, a budget-driven exercise which has resulted in a profound drop in people's trust in our policing, was an illiberal idea which has led to confusion and harm.
Land reform which still allows off-shore trusts to own the equivalent of small empires while paying minimal tax in Scotland seems a glorious miss in the light of the Panama Papers.
In the last two days, parties who could act as that much-needed strong opposition have been declaring their intent.
On Tuesday the Greens made an appeal to make a "bolder Holyrood" while yesterday the Tory manifesto promised "a strong opposition a stronger Scotland".
On the one hand the Greens say the SNP tax position is too timid, and that more money raised could do a proper job of improving Scotland's social democratic model. On the other, the Tories say that Labour were frankly feeble in opposition, but Ruth Davidson and her new MSPs would robustly challenge the programme of the SNP.
Both cases are credible.
The Greens are more radical than the SNP and have a lot of good ideas about how land could invigorate the economy.
The Greens should not be seen simply as environmentalists, though that remains important to them, but as economists, with a different model to sell than all the other parties.
First vote SNP, second vote Green that will surely occur quite a lot across Scotland on May 5.
What is less likely is the combination of SNP with a second cross for the Tories.
It sounds silly, but makes sense.
Torn two ways
The SNP is torn between two poles conservative and radical. Like a confused compass, the Nat needle wobbles between competence and change. If there were cartoon angels sitting either side of Sturgeon's head, one would be Tory, the other Green.
This sounds impossible, because the Tories are unionists, but as the SNP are unlikely to include independence in the manifesto, that's not really an issue for the next Holyrood administration.
The SNP have adopted a conservative tax position despite the Green angel's voice for progressive taxation occasionally coming out of Nicola's mouth. Sturgeon doesn't plan to raise taxes on high earners, but says she likes the idea the very model of trying to please everyone, while not doing much.
So your first vote would elect the SNP majority polling at 50% means this is inevitable but the second would elect a conscience, either left or right, to keep that government sharp.
Of course, the Green angel could still be replaced with a Labour one the old People's Party have a bold tax position and just need to find some fibre, and a few decent thinkers, and could come out fighting.
Lesson learned?
Both Greens and Tories have been keen to point out at their manifesto launches that Labour contributed to the mess of the last parliament's legislation by not opposing well enough. They didn't, but surely they must have learned something from that disappointment.
Contrary to the view that this is straightforward, second vote choice is becoming more complicated. The dynamic of personality, policy and performance of the parliament all make the voters' dilemma greater.
We have an electoral system designed to allow you to hedge your bets, to contribute to both government and opposition. Given the SNP's disappointing record as a majority, they would benefit from all the opposition they can get.