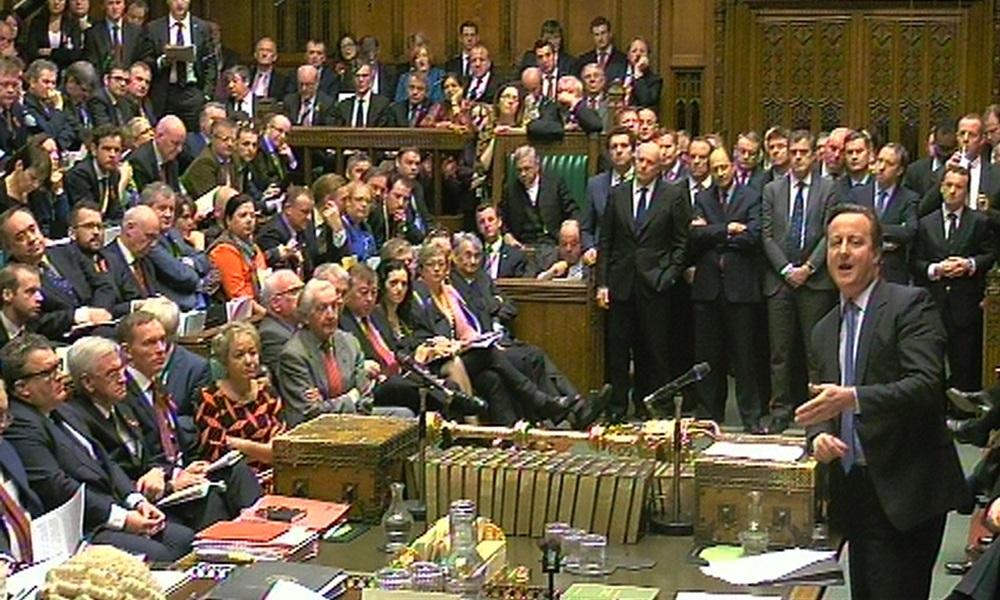 The UK has upped its war on terror as MPs backed air strikes in Syria by a thumping majority at a late-night vote.
Some 397 backed the UK Government's proposal to escalate military action against Daesh, also known as IS, with 223 opposing the move.
RAF planes could now be bombing within hours, with most expected to fly out of Scottish bases.
The 10-hour debate got off to a bitter start with David Cameron coming under immediate fire from opposition MPs against the action who demanded he apologise for branding them "terrorist sympathisers" the night before.
https://youtube.com/watch?v=-hD52Adzmu0%3Frel%3D0
He was repeatedly urged by Jeremy Corbyn and Angus Robertson among others to retract the remark made behind closed doors at a meeting of the Tory backbench 1922 committee.
But the Prime Minister only said that he respected those who had come to a different view and that there was "honour" in voting for and against.
Mr Corbyn said the PM's remarks "demeaned" his office and "undermined the seriousness" of the issue.
He too was criticised, however, both for the abuse some Labour MPs have received from activists and for refusing to confirm whether he supported the current action in Iraq.
https://youtube.com/watch?v=h7M9NuiQXgs%3Frel%3D0
Shadow Foreign Secretary Hilary Benn received rapturous applause after he closed the debate for Labour arguing in favour of strikes.
Mr Cameron insisted the question facing MPs was a simple one whether to take on the "women-raping, Muslim-murdering, medieval monsters" or "wait for them to attack us".
He added: "It is Raqqa in Syria that is the HQ of this threat to our security.
"It is in Syria where they pump and sell the oil that does so much to help finance their evil acts."
https://youtube.com/watch?v=EeknhtG3Dh4%3Frel%3D0
Over the course of the debate he was pressed for more detail on the 70,000 Free Syrian Army troops the UK Government has identified as the boots on the ground that would support air raids.
But he faced rebellion within his own ranks, with Foreign Affairs Committee member John Baron telling The Courier the Prime Minister had failed to make a "comprehensive, long-term and realistic strategy" for air strikes.
He said: "What we need is ground troops and where are the ground troops? I've just returned from the Middle East and we were being told there's none left.
"The 70,000 figure is a figment of his imagination."
During exchanges in the Commons, Mr Corbyn insisted it would be the extremists who would be able to capitalise on the strikes.
Mr Cameron accepted the local forces were "not ideal partners", but stressed the significance of the UK's precision targeting capabilities and pointed to some additional 20,000 Kurdish fighters with whom Britain could also work.
https://youtube.com/watch?v=CEHbBpoqh1g%3Frel%3D0
SNP Westminster leader Mr Robertson warned the UK Government faced a "huge problem with legitimacy and mandate" in Scotland.
Only Scottish Secretary David Mundell and his predecessor, Alistair Carmichael, voted for air strikes, while a poll showed 72% of Scots are opposed.
"In normal circumstances, in a normal country under these circumstances, the armed forces would not be deployed," he added.