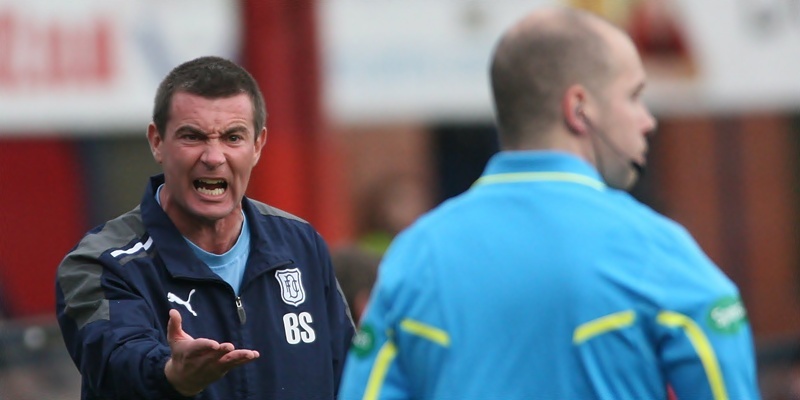 Dundee have lodged an appeal with the SFA against the red card shown to Rab Douglas during Saturday's game with Partick Thistle.
Douglas was given his marching orders after just 23 minutes when referee Steven McLean adjudged he had brought down the Jags Chris Erskine in the box to deny him a goal-scoring opportunity.
However, video evidence suggests the veteran keeper was an innocent party and Erskine himself has admitted that Douglas did not touch him.
Now, the Dark Blues have launched an appeal. This costs £500, but it is refunded if the red card is rescinded.
Dundee manager Barry Smith said: "We have looked at the video and their player's admitted that he didn't touch him, so we feel we have a strong case.
"As I said on Saturday, referees have a difficult job and they only have one chance to see things but the problem is it still left us with just 10 men. So we will appeal."
As well as the red card, Dundee suffered a double punishment as Thistle were awarded a penalty which was despatched by Paul Cairney and proved to be the only goal of the game.
The defeat leaves Dundee rooted to the foot of the Division One table and still without a home victory to their name so far this season.
However, Smith believes his side played so well in adversity it is only a matter of time before they win at Dens next up are Raith Rovers on Saturday and no-one at the club is ready to start pushing the panic button.
He said: "Even with 10 men, I thought the lads did really well. We passed the ball and we hounded and put pressure on them. We also created loads of chances so there was a lot of positives.
"Obviously, we are disappointed at the way we lost the penalty as we can defend better but we kept the ball well and passed and moved which is what we try to get them to do on a daily basis. Their keeper made some great stops in particular from Gavin Rae in the first half and Nicky Riley and Ryan Conroy in the second half.
"The big thing is that we have another home game on Saturday and it gives the lads a chance to go out there and win at Dens."
He added: "I don't think you can fault any of them for effort and I believe the fans recognise that. The supporters have to take a lot of credit as they are still turning out in big numbers and giving the boys great backing, which is really important.
"When the fans get right behind the players, there is nothing better and they have done that. However, we just aren't getting the wee breaks at the moment … the sending off and a couple of chances which on another day would have gone in but I'm sure it will come."
Meanwhile, Jake Hyde has returned to training after recovering from a knee injury but Graham Bayne (ankle) is set to sit out another fortnight.