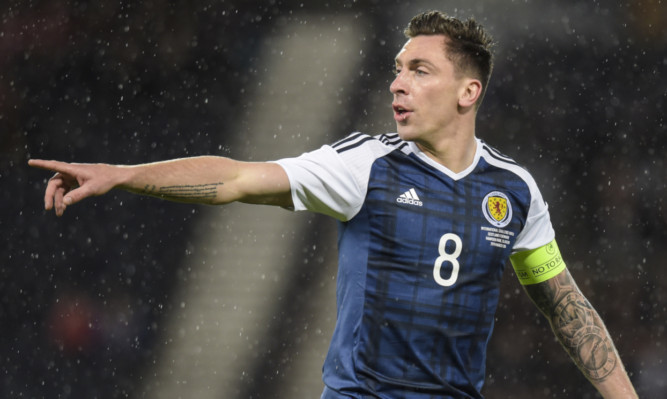 Scotland skipper Scott Brown has criticised the pitch at the National Stadium saying it makes the country a "laughing stock" when showpiece occasions such as next months's Scottish Cup semi-final between his club side Celtic and Rangers take place on it.
The Hampden surface, like many in this country, has taken a battering this winter and the grass was relaid prior to the League Cup Final between Ross County and Hibs.
Brown sampled the new pitch on Tuesday night as Gordon Strachan's side beat Denmark in an international friendly and he was less than impressed.
The midfielder, who won his 50th cap against the Danes, also questioned why Queen's Park are allowed to play at Hampden every second week.
Brown suggested that the ultimate solution to the pitch problems may lie in taking a leaf out of Scottish rugby's book and to lay a "hybrid" surface similar to the one that impressed him at Murrayfield when Celtic played European Cup qualifiers there in 2014 because Parkhead was being used for the Commonwealth Games.
When asked what he thought of the new Hampden surface, Brown said: "It is bang average as always.
"That is what happens when you play somebody else on it week in, week out.
"You don't see that happening in England or anywhere else.
"It takes four to six weeks to bed in and it has not had that time.
"It is always going to be slippy with a little bit of rain on it but it is a lot better than it was at this time last year.
"It will probably not be the best (for the cup semi-final) but we just accept that when we come here.
"You fear the worst but if you can play on what we did last year against Rangers, then you can play on anything."
The Old Firm game will be shown live on Sky and Brown was under no illusions about the negative effect the Hampden pitch can have on the perception of Scottish football.
He added: "That's the thing, sometimes we are a laughing stock when it comes to that.
"But it is part and parcel of the game these days. We can't keep it in great nick all season round because of the weather up here.
"We have to take that on but it should be a lot better than it is.
"Murrayfield is so much better than that. It is flat, it is nice and when we played on that in the qualifiers it was unbelievable.
"It was one of the best pitches I have played on so you never know what might happen."
While the pitch was a negative for Brown, he insisted that there were still plenty of positives to take from the win over Denmark, with the victory coming fast on the heels of last Thursday's friendly triumph against the Czech Republic.
And Brown admitted that he feels the future is bright for Scotland after the superb debuts of his Hoops team-mate Kieran Tierney and man of the match Hibs midfielder John McGinn.
Brown added: "The main thing is that we managed to get another victory to keep the momentum going.
"The confidence is flying and it's given the gaffer a wee bit of a headache there.
"Two teams have played really well and some of the new players who have come in have played exceptionally well like Kieran and John McGinn today.
"It shows you the future is looking good for Scotland.
"I have seen him (McGinn) play many times. He is very direct and has so much energy. It is great to have him in the squad and he is a great guy as well.
"He has the makings of a top, top quality player.
"He is learning all the time under Alan Stubbs. He has improved in the last season because he is working with a top-quality manager.
"Working with Gordon as well will help him even more.
"The first five, 10 minutes is always very emotional on your debut but he held it together really well.
"Kieran also continues to improve week in, week out and nothing fazes him.
"He is also a top quality player."