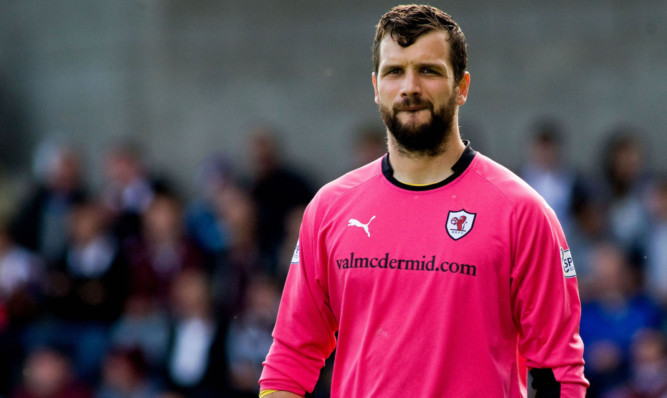 Raith Rovers boss Grant Murray reckons having a full squad to choose from can only be good for his side's prospects in the closing months of the season.
Murray has had to do without the likes of goalkeeper Kevin Cuthbert and defenders Craig Barr and Dougie Hill for long spells so far this term, with a number of other players out with niggling problems at certain times.
Despite that though, Rovers remain in contention for a play-off place and have now gone four games unbeaten post-Christmas.
Murray believes much of that is down to the fact that he now has everyone in his squad at his disposal, and he admits having players eager for a starting slot has been a good headache to have when it comes to team selection.
"That's the bonus I've got of having a good competitive squad," he commented.
"The players who are in have got to keep the jersey, the players who aren't in have got to make sure they are working hard and doing everything they can so when the opportunity comes along it's up to them to go and take it.
"We've just been delighted to have the full squad to pick from, and it was the first time as a manager I've had that amount of players out with long-term injuries.
"I know it's difficult when you are out long-term, and all you want to do is play football.
"You want to play the following day or the following week.
"But when you have a long-term injury it's difficult for players and they've got to focus and try to see the bigger picture.
"So it's great when you get them back out on that training pitch.
"Yes, you have to take it easy, but it's great to have them back and they are raring to go.
"I was fortunate not to have any long-term injuries in my career, maybe a month out at the most, and even then it could be so frustrating.
"You sense that with guys who have been out for two, three, four months, like Craig and Kevin, but to see them back in training and working hard is great for everyone.
"It's great for the younger ones and gives the whole squad a lift.
"When you see good players coming in and ready to strengthen the squad, it does give everybody a natural lift.
"These are players who are capable of playing in the team, that's why we brought them to the football club.
"That pressure or motivation of seeing these guys coming back can keep guys in the team striving to do well because they don't want to lose their place."
Rovers could make a statement in terms of getting back into promotion contention if they can beat third-placed Hibernian at Easter Road on Saturday.