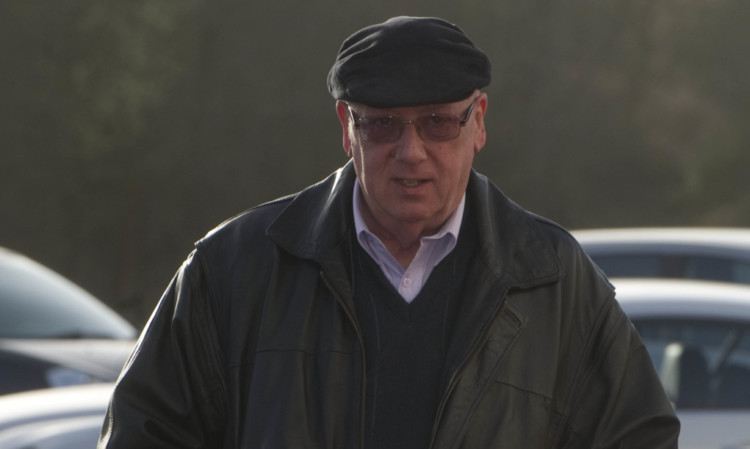 Raith chairman Turnbull Hutton has issued a statement in response to a "massive over-reaction" from fans in recent weeks.
Despite the fact the Kirkcaldy outfit are in the final of the Ramsdens Cup and have a Scottish Cup quarter-final to look forward to, a section of the support has made its displeasure with the club's league position known.
Rovers are third bottom, just two points above Cowdenbeath but the chairman, in a lengthy missive, insisted now is not the time to hit the panic button.
He began: "Those of us old enough to have watched Dad's Army first time round must surely have been influenced by Jonesy's cry of 'Don't panic . . .'
"I sometimes muse as to whether or not this mantra does not apply to football supporters generally or, perhaps, our supporters specifically.
"Depending on our result, we can be sure of one thing: a massive over-reaction to events on the field."
Hutton went on: "This can be positive . . . we could win the Scottish Cup and the Ramsdens Cup, or it can be totally negative we're heading to the seaside league, the management team should be sacked, the board should resign, the players are hopeless. Does this ring any bells? Anyone out there recognise themselves?"
The chairman concluded by invoking the memory of another Dad's Army stalwart, saying: "I started this with a reference to Jonesy. I should finish with a reference to Private Frazer he who preached: 'We're DOOMED'.
"I guess we should define doomed . . . is that doomed totally, as in not having a club to support at all? Or is it merely not doing as well as we thought we should?
"Or is it that every other club in our current league probably has the exact same hopes and aspirations as we have? It's called competition. There are winners and losers. That's life, folks. Get used to it."
Captain Mainwaring (aka Turnbull Hutton).
Raith boss Grant Murray admitted he had not seen his chairman's statement when contacted to discuss the game with Alloa but he did point out that. in the incredibly tight Championship, a win over the Wasps would take Rovers to within just two points of fourth-placed Dumbarton.
Raith drew 3-3 with the Sons at the weekend and Murray said: "Dumbarton are the form team in the league at the moment and are doing really well.
"However, we are disappointed that we only drew, having scored three goals away from home at a hard place to go to.
"I was, though, pleased by the contribution of Gordon Smith and John Baird. Bairdy scored one and Gordy a double and that should do lots for their confidence.
"We have scored eight goals in our last three games but we need to tighten up defensively.
"We have to defend better as a team. Keeping clean sheets is a priority in every game."
Murray hopes Dougie Hill, who missed the Dumbarton game through injury, will have recovered in time for the game.