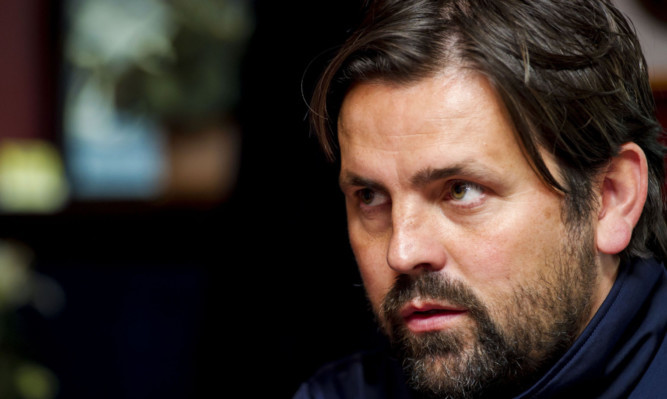 Dundee's managing director John Nelms admits he fully expects Paul Hartley to be snapped up by a bigger club in the future and if he is, it will mean that the Dark Blues have been successful.
The Dens boss guided Dundee to promotion from the Championship after taking over from John Brown last season and during the summer has overseen a radical reshaping of the squad.
That new-look group of players has put together a magnificent seven run of games without loss so far, including Sunday's drawn match at home with champions Celtic.
Nelms is hoping Dundee can take up where they left off after the international break and he is certain that his manager's reputation will continue to rise.
When asked if he feared Hartley could ultimately be lured away, the American said: "It's not a fear, it's an expectation.
"We think with all of our players if they come through our system, we expect them to move on to clubs who can potentially pay more. It's the nature of the game.
"We knew that coming in. If players and the manager are being sought after, then we must be doing something right. If that's the case, then Dundee Football Club will be doing well."
Nelms also admitted that he is delighted with the start Dundee have made to life in the Premiership.
He added: "So far this season we have shown how we are going to play, what we are going to do and how forward thinking the club is now that Paul is here.
"We have had a few wins and several draws. We are disappointed that we didn't get all three points in some matches but I think the victories will come.
"That's a big change from last season. Expectation levels have risen but and I have said this many, many times Paul is a modern-day progressive manager.
"He uses the technologies provided to him and he is probably one of the best at preparing a team.
"Whenever we have a match, I feel quite comfortable that we have done everything we can to prepare the team for the task at hand. That's all we can expect.
"We have had a lot of players coming in but they have gelled really quickly. The character of the boys means they have all come together well.
"Paul has made training eventful to the point where they have to help each other out. It's starting to show on the park and I think we will only get better."
Nelms also revealed that his compatriot and investor Tim Keyes is still an avid follower of the team.
He said: "I speak to Tim just about every day, sometimes twice a day. We are very close friends on top of being business partners.
"He watches the games every chance he can. Sometimes he is coaching but he will still have the text updates on his phone. He is engaged in every match in some form or another."