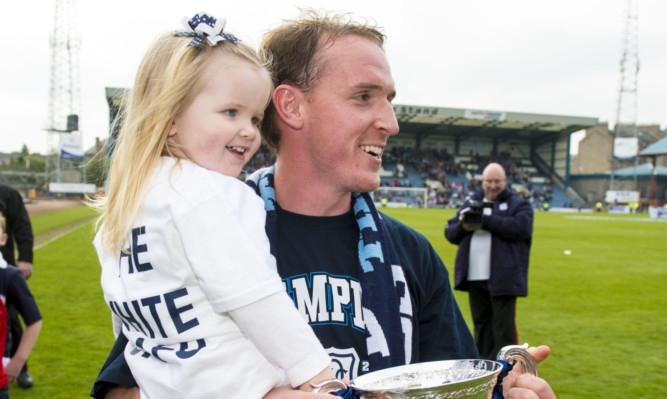 Gary Irvine has revealed just how big a wrench it was for him to decide to leave Dundee after six roller-coaster seasons.
The 30-year-old parted company with the Dark Blues last night by mutual consent with Dens boss Paul Hartley reluctantly allowing him to head for the exit to start a new chapter in his career with St Mirren.
Irvine was part of the Championship-winning team that secured promotion in 2014 and was also a member of the "Dee-Fiant" side that kept Dundee up after being docked 25 points for entering administration four years earlier.
The full-back admits the club will always have a special place in his heart but with his contract up at the end of the season and with a young family to consider, he had to look after himself.
Which is why he has been lured to the Buddies by former Dundee boss Alex Rae and the prospect of a longer contract than the Dark Blues were willing to offer him.
Irvine said: "It was a really tough decision for myself and I think it was hard for the manager to let me go as well.
"He would have liked me to stay but he had to make me aware that St Mirren had come in for me.
"I have so many good memories of Dundee but it is time for me to open a new chapter in my career.
"I will be delighted to sign for St Mirren. They offered me the security of a longer contract but Dundee couldn't do that.
"My wife and I have three girls and I had to think about my family.
He added: "The St Mirren stadium is just half an hour from where I live and the facilities are great there.
"Their manager Alex Rae actually tried to sign me before when he was in charge at Dundee and the fact he still wanted me was a big factor.
"However, it was still really tough leaving a club like Dundee that means so much to me.
"This was my sixth season at Dens and I have some fantastic memories to take away with me.
"Achieving promotion was such a high but there was, of course, the low of administration.
"Even that though turned into a high of its own when we went on that incredible unbeaten run to keep the club alive really.
"So I have unbelievable memories but it just wasn't to be for any longer.
"St Mirren have given me security and it is really close to my family so it ticked all the boxes really.
"I am fit and ready to play for my new club.
"But I have to admit, it was an incredibly-hard day leaving Dundee as you become really close to people after six years at one place.
"I would also like to thank the fans who were just great with me and I will always be proud that I captained the club on many occasions I wish them every success in the future."
Hartley also paid his own tribute to Irvine, saying: "During my time here, Gary has been the ultimate professional. We wish him all the best for the future."