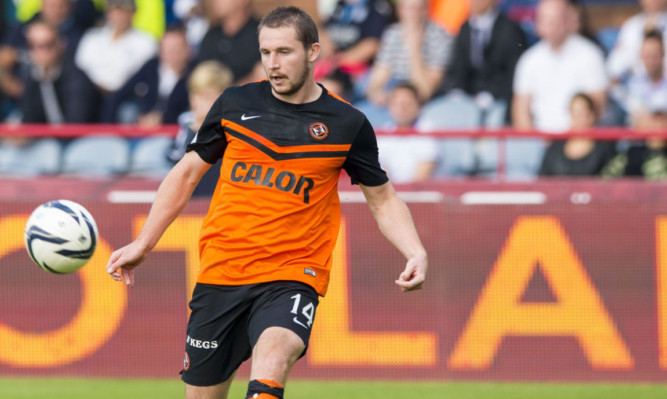 Dundee United defender Callum Morris is backing goalkeeper Rado Cierzniak to recover from his Aberdeen aberration.
Cierzniak was at fault for the Dons' opening goal at Tannadice on Saturday in a disappointing 2-0 defeat for the home team.
Instead of catching the ball, Cierzniak allowed David Goodwillie's downward header to bounce up and hit him on the chest and rebound right into the path of Adam Rooney.
The striker tapped the ball home and added another with the help of some dodgy defending from the Tangerines, albeit the goalie couldn't be blamed for that second one.
Morris, who came on after the break to shore up United's backline, is confident Cierniak won't dwell on his error when champions Celtic visit on Sunday.
"Rado will bounce back," he declared.
"He's made a mistake but everyone is going to make a mistake sometime in the season.
"I don't think he will be too hard on himself.
"He will put it all behind him and will be fine for Sunday."
Morris also made a case for the defence, pointing out quite rightly that one defeat does not merit severe criticism.
"We had an impressive home record going into the Aberdeen match but the important thing now is to regroup ahead of another huge game on Sunday," said the Englishman.
"The fixtures come thick and fast at this time of the year so you need to put any setbacks behind you and look forward.
"Overall, I think we have been quite good at the back this season.
"It was uncharacteristic of us to give away two goals like that but we will learn from it.
"I came on at half-time and sitting there watching the first half I could see areas where I could maybe help the team out.
"I was happy to come on and thought I did OK on a personal note, although it was disappointing that we lost the game.
"There is a long way to go and we have plenty of talent in the squad to go on and have a really good season.
"We are in the two cups and are still sitting in third place in the table despite Saturday's result so that's not too bad."
While the loss to the Dons was a big setback, it still wasn't bad enough to "better" the 6-1 hammering from the Hoops at Celtic Park on August 16.
Morris admits that there will be no room for errors when they welcome Ronny Deila's men in the televised lunchtime fixture at Tannadice.
"We will need to be 100% against Celtic because they have a really good squad of players," added Morris.
"The last time we came up against them we didn't really give a good account of ourselves.
"However, we showed real resilience after day that to battle back to form and we can do so again.
"I do think we have more than enough to compete with Celtic.
"I am looking forward to what will be a really big game and hopefully we can get three points to push us up the league."