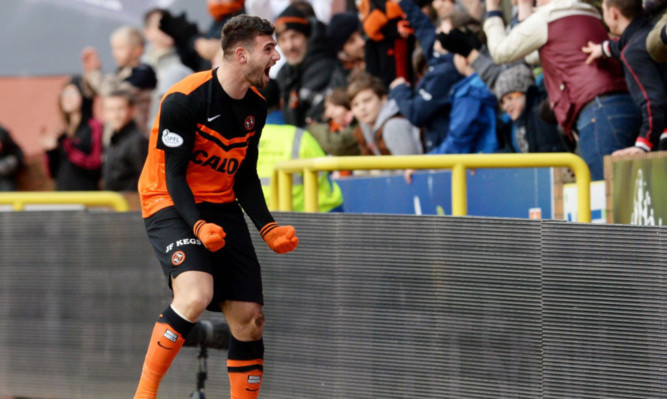 It may have been the shortest day of the year but those final minutes seemed like a lifetime for Dundee United.
Victories over Celtic are as rare as a funny Christmas cracker joke, with the Tangerines' last success at home coming back in May 6, 2012.
Santa Claus was a boy when United last won at Celtic Park on Boxing Day, 1992, so you could excuse the man-hugs and wee dances that broke out among the players after the final whistle yesterday.
This wasn't just any win.
It was a result that fired them up the Premiership table from fifth spot to second and pushed them only four points behind Ronny Deila's men.
Deila sees United as challengers to his team for the championship, along with Aberdeen and Inverness.
However, United boss Jackie McNamara wasn't going down that road, choosing to keep his cool even while basking in the warm glow of such a valuable victory.
Asked if his players could keep the pressure up on Celtic at the top, McNamara said: "It is still too early to say that.
"We have to be more consistent.
"We were flat last week against Aberdeen so we need this same level of energy and desire every week.
"We also had bits of luck today.
"I did think Celtic would be further head by now, given the resources they have.
"Competing with that is very difficult for us.
"If something is not working, they can go and spend a few million pounds, which they did in the summer.
"You always feel a bit of caution playing against them, especially when you look at the subs they could bring on (Kris Commons, Stefan Scepovic and Leigh Griffiths).
"Throughout our team, though, I thought we were excellent.
"We put bodies on the line even if we did get a bit of luck."
As well as that, United have quality players in their team, especially the two goalscorers.
Ciftci got off to a bad start yesterday, getting booked after just 30 seconds but he showed composure by latching onto Armstrong's deflected pass to shoot past keeper Craig Gordon after just five minutes.
He then repaid the compliment on 65 minutes when he left Celtic defender Emilio Izaguirre looking dumbfounded down at the corner flag before scooping the ball to the back post, where Armstrong was waiting to nod home from close range off Gordon's body.
Griffiths got one back for the Glasgow team with three minutes of the 90 remaining and the closing stages were nailbiting from the homes side's perspective.
Also, as admitted by McNamara, there was a fair bit of fortune about the win.
The champions had a decent penalty shout turned down when Sean Dillon appeared to clash with John Guidetti inside the box; Dillon nodded an Anthony Stokes cross against his own post; the Hoops had a goal for sub Scepovic wrongly ruled out for offside; and Griffith smacked the ball off the post in stoppage-time.
Mind you, any United fans who have sat through defeat after defeat from Celtic over the years won't be bothered by that.
What they might be bothered about, though, is Armstrong being talked about as a future Parkhead player by Hoops captain Scott Brown, and Deila singing the midfielder's praises so much that he likened him to German superstar Thomas Muller. All in the build-up to the game.
To his credit, Armstrong kept his focus well enough to score the winner.
Indeed, he and Ciftci were the outstanding contenders for man-of-the-match, with Armstrong getting the nod from broadcasters BT Sport but the Turk surely edging it for the brilliance of his ball over for the winner.
Ciftci may be a Muslim but he was still full of Christmas cheer after the final whistle.
He said: "At my goal I had to take a touch to control the ball but I got my foot where the defender could not tackle me.
"Again at the second, I was in the box so they couldn't tackle me or it's a penalty. That gave me time to see Stuart at the back post.
"This victory is a great Christmas present for us and the fans."
Manager McNamara, speaking of his Turkish talisman, added: "When Nadir is on it, he is a handful.
"It was not just his goal but his set-up play for Stuart to score as well.
'We have said all along he is a fantastic problem, who has taken a lot of hard work behind the scenes.
"And when he got booked after 30 seconds, that's part of what I mean!
"But I have said all along that he is worth the hassle at times because of what he can give, the ability he has.
"It has taken a bit of time but he has changed a lot in the last year-and-a-half, while both me and (assistant boss) Simon Donnelly have got a few more grey hairs!"
Celtic boss Deila also has worries, with some of his side's defending particularly at United's goals – leaving a lot to be desired.
Ciftci punished Efe Ambrose's fresh-air swipe at a loose ball inside the box when he fired United ahead then the striker eased past Izaguirre to set up the second goal.
Deila said: "Today there were two things that were most disappointing.
"We conceded two easy goals we can't give them such easy goals as we did.
"I'm annoyed about the way we defended.
"It is easy to keep the ball, push them out and don't let them go in and open up the goal. We did that twice and then you see what happens.
"Secondly, it's the fourth match now that we have created eight to 14 chances but when you score one goal that is way too little.
"We have to be more effective at putting the ball into the net.
"The disallowed goal is disappointing but over a whole season it is even-steven."