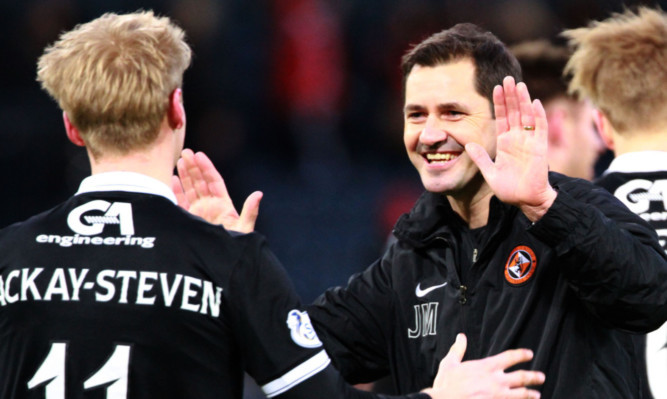 Dundee United boss Jackie McNamara admits he is desperately disappointed to lose Gary Mackay-Steven and Stuart Armstrong to Celtic however he fully understands their reasons for leaving Tannadice.
The chance to move to the Glasgow giants is the sort of "life-changing" opportunity the manager knows all about as he had to take a similar tough decision himself when he was a player at Dunfermline.
He also believes that "GMS" and Armstrong may have wanted to move to the Hoops now after seeing two younger players, Andy Robertson and Ryan Gauld, earn big-money transfers during the summer.
McNamara said: "Obviously there are mixed emotions with what's happened but you just need to get on with things.
"I spoke to both of them and their representatives and they wanted to move on to bigger things at this stage.
"The club will never stand in anyone's way and the last thing we want to do is keep people here if they're not happy.
"I think we expected to lose them both last summer and I felt that when they came back in pre-season they saw it as a chance missed.
"They wondered why the younger ones had gone before them.
"There has been speculation about them for years now, so I think they just felt they wanted to get the move now.
"Players are human, they worry about getting injuries and maybe fans booing them so there are a lot of mental sides to it.
"But the bottom line is that when someone wants to go, we won't stand in their way.
"It's not a case of them not being happy here, it's about getting a life-changing opportunity.
"I went through it myself at Dunfermline. I loved it there but had the chance to move on and although it was sad I knew it was the right thing to do.
"It's a short career, people watch their friends leave and want to move on themselves. I can understand it."
McNamara also insisted the club was being financially prudent in agreeing to let the duo go now.
He said: "As disappointed as we are to lose them, we have to be sensible as well.
"We lost Johnny Russell for peanuts and the club lost Craig Conway before in the past.
"When a player goes into the last year of his contract the club loses power.
"We got £750,000 for Johnny, which wasn't enough for a player like him. So it's easy to say wait until the summer.
"It happens at every club, we're just going through it now because we have a lot of talented players who people want.
"Celtic are in a different ball game to us in terms of spending power but they get it from the teams higher up.
"Clubs in England are in a different league so they will lose players to them.
"You saw it with Gary Hooper and a number of other players over the years.
"In an ideal world you'd keep them to the summer but that would risk losing out on millions of pounds.
"If the players don't want to go or they don't ask to leave, there's nothing to be talking about.
"The window could close and we're all happy, but sometimes as a club things are out of your hands.
"We're a family club, we do our best to keep players but there sometimes comes a stage where it's too difficult to do that.
"You have seen what has happened over the last few years, we are not in a position to stop players from going if they want to leave.
"And we are not in a position to turn down money when that's the case.
"They signed their contracts in good faith, we told them we wouldn't stand in their way if something came along, and you have to respect that."
McNamara is all too aware just how short a footballer's career can be, something he reinforced by using the example of one of his players Jarek Fojut.
The big Polish defender signed a pre-contract with Celtic back in 2012 but the Hoops pulled the plug on the deal after Fojut suffered a serious knee injury.
McNamara said: "I would never criticise them for wanting to move on.
"I have seen the other side of it as a player. They are human and it's a short career.
"Jarek Fojut signed a contract once but got injured and it fell through, so it's a decision people have to make themselves.
"I totally respect their right to move on and further their career, it's what happens in football.
"Like every other United fan I'm disappointed to see them go when we're still going on three fronts.
"But I still have loads of faith in this squad, we want to keep moving forward and we'll do that together."
As Armstrong and Mackay-Steven were leaving, former fans' favourite Paul Dixon and Kilmarnock striker Robbie Muirhead were joining United on Monday, with the latter signed just before the transfer window closed.
And McNamara was delighted to get them on board.
He added: "Robbie will be a good addition to the team. He's a big lad who can score goals.
"He's versatile and can give us another option. We had to work hard and it got very tight trying to sign him, but we got there.
"There was a lot of speculation about him going to other clubs so I think it's fantastic we managed to get in there and sign him.
"Paul Dixon is another good signing. He's a player coming to his peak and we're delighted to get him on a permanent deal."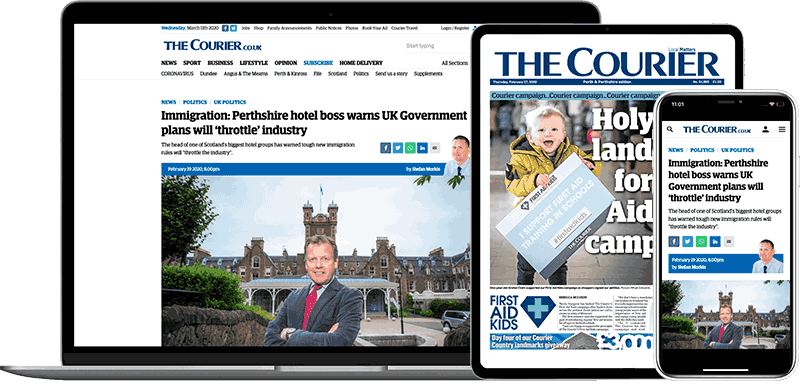 Help support quality local journalism … become a digital subscriber to The Courier
For as little as £5.99 a month you can access all of our content, including Premium articles.
Subscribe