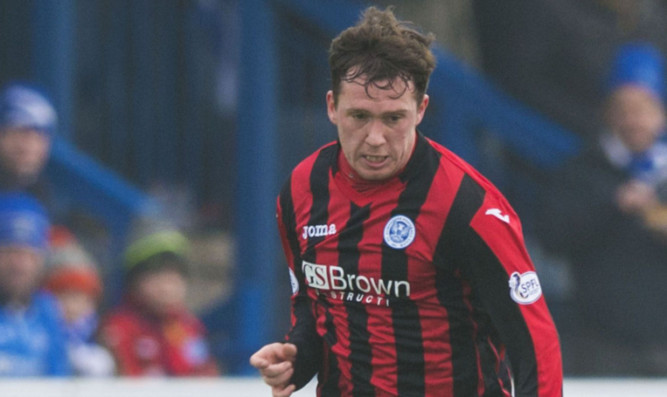 An early return Tannadice return for Danny Swanson has come as a pleasant surprise for the Dundee United old boy.
Because he had it in his head he was going into much more hostile territory.
The on-loan playmaker could make his first league appearance for Saints in the Tayside derby, and the 2010 Scottish Cup winner can expect a warm reception from the United fans.
Swanson revealed however that he had been gearing himself up for an entirely different experience across the road.
"I thought it was Dundee this weekend for some reason when I looked at the fixtures when I found out I was coming to St Johnstone," he explained.
"So I didn't even know this game against United was coming up until somebody told me a couple of days ago.
"But I'm really looking forward to it now.
"I loved my time at United. They were great days.
"I'm looking forward to seeing the likes of Cat the kitman, Stevie Campbell and the chairman. Stephen Thompson e-mailed me when I left, which was nice.
"Dundee United are a big part of my career but I'm a St Johnstone player now and I want to do my best for them. I owe it to the fans here."
There will certainly be no question of divided loyalties this afternoon.
He added: "Everybody knows I'm a Hibs fan but I always did my best when I went to Easter Road and I thought I did well in games against them.
"This is a massive game for us. The manager has told us that we might drop out of the top six for a game or so, but we can get back."
Swanson returned to training on Thursday, after missing Saints' narrow defeat to Celtic through injury, and he has declared himself available for selection.
"I had a dead leg when I came up here on the Friday before the Queen of the South game," Swanson said.
"It got better and I was able to train and play but then it went further up my leg into my groin so the physio said it needed rest."
United didn't find it easy against Saints in Swanson's time as a Tangerines' player, but the record was nowhere near as one-sided as it is these days.
And the Coventry City loan man believes there could be a psychological factor at play.
"Dundee United have always struggled against St Johnstone," he recalled. "Even when I was a United player we found it tough.
"To be honest I think St Johnstone had got into their heads in last season's cup final.
"When I was watching it I thought St Johnstone had the edge over them and the United boys were thinking about it.
"We'll go there knowing they'll be worried about us."
There have been plenty of big name departures from Tannadice, both before and after Swanson himself, but he doesn't have any doubt that United will continue to thrive for years to come.
"It's a club that is definitely going in the right direction," he pointed out.
"It started with Craig Levein. He came in and made changes from top to bottom and ever since then they've got stronger.
"They do things right and they've got a lot of good players.
"We had a good team in my days there, with the likes of Conway, Johnny Russell and Goodie. It was a successful team as well. We won the cup and finished third that was as good as it could get.
"When I left there were a few of us going and I was thinking 'which way is it going to go'?
"But United have a knack of getting players from nowhere. I'm not worried for them."
If Swanson does play, he could be up against a familiar face Paul Dixon.
He noted: "There are a few boys left from my time and Dicker's come back.
"We played against each other once in the Championship down south. It was a draw, I think.
"We could be on the same side of the pitch. He's great going forward so if we are in direct opposition the plan will be to get him going back the way."
David Wotherspoon returns from suspension but Brian Graham can't play against his parent club. Murray Davidson is out injured.