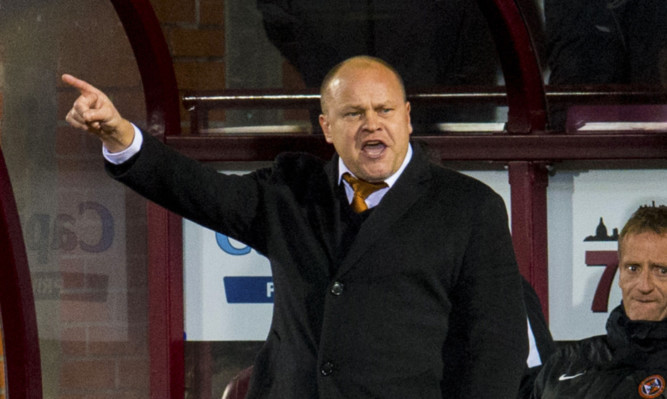 Dundee United manager Mixu Paatelainen has warned that it will be "cheerio" if they don't stop making basic mistakes.
Paatelainen looked on in frustration at Tynecastle in midweek as Hearts were gifted goals by the Tangerines.
After going into an early lead thanks to Billy Mckay's penalty, United's defence failed to pick up Gavin Reilly at the back post at a corner and their advantage was thrown away.
Goalkeeper Michal Szromnik then pushed the ball into his own net after former Tannadice player Prince Buaben took a shot from outside the box to turn the match on its head.
The Jam Tarts would go on to win the match 3-2 and Paatelainen has told his players that the blunders need to stop, starting with today's derby against Dudnee.
He said: "The goals we have been conceding have been far too sloppy.
"That's the reason we are where we are.
"The first two goals against Hearts were so soft.
"We go over these things on the training ground, talk about them and look at them on the video.
"Then next week it's somebody else or something else.
"It is so difficult.
"If it were the same person all the time it would be easier to deal with.
"If we had one position getting overloaded all the time or were weak in a specific area then you could deal with it.
"When it is a shot from 25 yards whether there is a swerve or not that is parried into your own net, that's hard to take.
"When it is a man-marking error at a corner kick, when we work on that every week, then that's difficult.
"If we want to get out of this trouble, though, that is something we must sort out.
"If we don't do it then it's cheerio it's as simple as that."
Meanwhile, United's new goalkeeper Eiji Kawashima will make a dramatic derby debut if he can convince his boss he is ready.
With Michal Szromnik at fault for two of Hearts' goals in the club's 3-2 defeat in midweek it is clear that the Japanese international will be given every chance to take over in goal from the Pole.
"Eiji will be in the squad but whether he will be used is another thing," said Paatelainen.
"He hasn't played for a while, although he has been training back in Japan.
"It is decision that I will have to make and I will take my time.
"Derby matches are fast and furious.
"I think it is important that you only put players out there if they are comfortable."
While United fans will be hoping to see Kawashima in action, they won't be watching central defender Callum Morris for some time after he injured his medial ligament during the Hearts match.
"Callum will be out for a month and a half, even for two months," said Paatelainen.
"He opened his medial ligament and it's unfortunate."