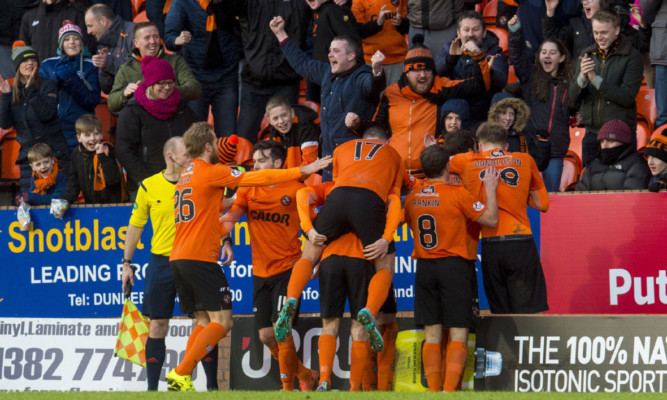 Gavin Gunning insisted Dundee United remain united after a tumultuous week for everyone at Tannadice.
The players reacted perfectly to chairman Stephen Thompson's critical statement by beating Hearts 2-1 on Saturday thanks to a dramatic 88th-minute strike from stand-in captain Paul Paton.
Following the 3-0 defeat from Motherwell on Tuesday night, Thompson had apologised for the "abysmal" performance; called the bottom-of-the-league position "wholly unacceptable"; and declared that the players had the remainder of the season in which to "redeem their own professional reputations."
Before kick-off against the Tynecastle men, Paton called his teammates together for a huddle in the middle of the park.
It seemed to work as the Tangerines took the game to the Jam Tarts and grabbed a deserved lead thanks to Guy Demel's header just a couple of minutes before the break.
By then the visitors had been reduced to 10 men after Jordan McGhee was sent off but Hearts levelled through a Jamie Walker strike just three minutes into the second period.
That set United back but, unlike on so many other occasions this season, they hung in there and went on to grab the winner with just a couple of minutes left on the clock.
The players all celebrated together in front of the supporters, who then applauded the team off the park.
It was a welcome result after a terrible few days.
It was put to Gunning that Paton's move was a clear show of unity in response to Thompson's blast.
He said: "We have always been together, no matter what the fans say, or the chairman or whatever.
"As a squad we have always been together."
He was then asked if winning with a late goal proved there was spirit among the players.
He replied: "There has always been spirit here so that's a silly question."
Gunning then denied that he was affected by what the chairman said in midweek.
He said: "Nah, it doesn't bother me.
"What can I say?
"That's football and (he) pays everyone's wages.
"I don't know whether we're the third-highest paid in the league, though. Not mine anyway!"
If not moved by what the chairman had to say, what about teammate John Rankin's claim that some players may have decided to "down tools"?
"Nah, I don't agree with that," he said.
"I have only played 10 games so I don't know."
He added: "Obviously it's a s*** situation that we are in.
"What you get at the end of the season is what you deserve. You can't blame anybody else.
"You can blame (Jackie (McNamara, the previous manager), you can blame the chairman or you can blame who you want.
"At the end of the day it's the players' fault if we get relegated but I don't think we will."
So what does Gunning base that optimism on, considering they are 11 points behind second-bottom Kilmarnock with just 12 matches to play?
He said: "We have a good squad so
"It is going to be tough.
"It is not going to be easy and we are looking at having to win, what, seven or eight games?
"We just have to take it game by game and win as many as we can.
"We are not going to win every game. We are not that stupid that we would think that."